okgourmet.com&nbsp &nbsp Home of Steve's Restaurant Reviews
Los Amigos Mexican Restaurant (Closed)
4101 N. MacArthur Blvd.
Oklahoma City, OK (Warr Acres)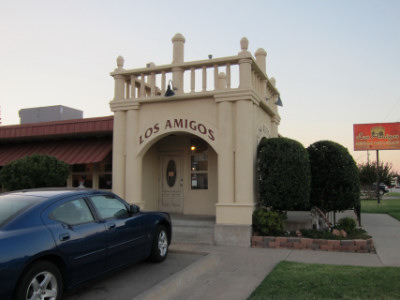 Los Amigos is one of a group of long established "north side" Mexican restaurants that have been popular with local residents by providing a more Americanized version of Mexican food to which they are accustomed. Because of this it was never on my radar screen as standing out from the other restaurants, but it has been one where I have found a consistent quality.
I have discovered, though, that there is more to Los Amigos than its Tex-Mex menu. Several dishes from the state of Aguascalientes in central Mexico are available, and at this point I do not know if they have recently been added or whether I just found out about them (I think the former is the case). One tip-off that some of the menu is authentic is the listing of tacos Calvillo, made famous by Abel's Restaurant but also served at several other nearby restaurants with food originating in Aguascalientes.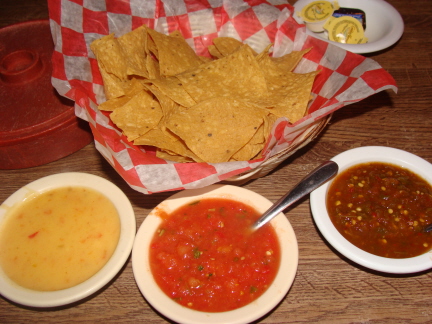 Chips, queso, salsa, and spicy salsa
The Chips have been somewhat inconsistent over the years, but they are usually thick and crispy-- the way they should be.
The Salsa is really one of my least favorites in Oklahoma City, but the Spicy Salsa had a good flavor and a good kick.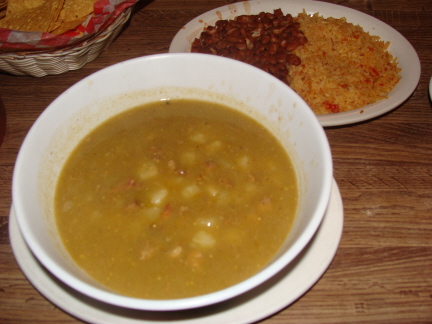 "El Mexicano" with Mama's homemade recipe of green chile stew
"El Mexicano" is the name of the Green Chile Stew listed on the menu as one of the restaurant's specialties. In fact, it is made from "Mama's homemade recipe of pork stew and potatoes in a hot green seasoned sauce." The fact that "Mama" is actually present overseeing the restaurant may be one reason this dish turns out so well. I thought it was excellent, even surpassing the green chile stew served at Purple Burro in Edmond that was made with Hatch chile from New Mexico. The green chile at Los Amigos was not as spicy, but was very flavorful. The meat and potatoes in the stew were the quality and quantity that I thought they should be, and I thought the chile was plenty spicy enough (about equal to most green chile dishes in El Paso). I definitely thought this was an authentic Mexican dish, and was a good example of the owners' family recipes.
The Pinto Beans had a very good flavor.
The Rice was very good, but nothing made it stand out as one of the best in the city.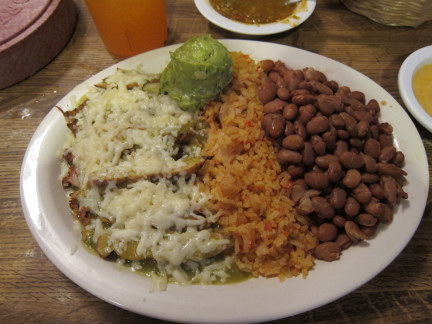 Charro dinner consisting of marinated chicken with green chile
The Charro Dinner was another dish made with green chile, and which was also very good. The marinated chicken not only had a good flavor, but helped make the dish filling without causing me to feel stuffed. The cheese did not overwhelm the dish because of the fact that it was white cheese.
I also liked the fact that this dish came with Guacamole, which I thought was one of the best in the city.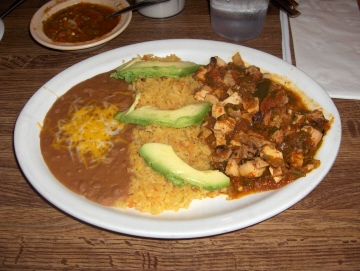 Guiso ranchero with chicken
Guiso is a dish that I found at a number of restaurants in Austin, and I think originates from northern Mexico. My experience with Chicken Guiso at Los Amigos was not as memorable as the green chile stew, but I liked the chicken and flavors of the dish. This was better than other guiso dishes I have had in Oklahoma City, and I think was pretty authentic (at least to the extent the ones in Austin are).
The Refried Beans had a good flavor, and are probably as good as the whole beans.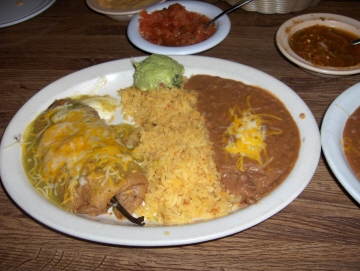 Chile relleno
The Chile Relleno is topped with green chile, which to me makes this a better one than most in the city.
The Melón drink was not quite as good as at Abel's, but I was very happy that they even offered it, considering how hard it is to find this canteloupe drink almost anywhere else.
A tortilla making machine is in view of the dining area, and it is apparent that they make the tortillas in house. I am not sure this makes them better than at any other restaurant, but they are fresh.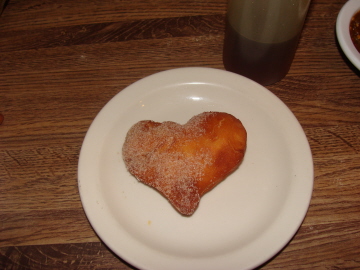 Sopapilla
The Sopapilla was one of the more flavorful ones in the city, and well cooked. As a matter of fact I was pretty impressed with it.
I have been going to Los Amigos for years, and I thought of it as a fairly good Tex-Mex restaurant. The authentic items from Aguascalientes, though, make this a much better than average choice for Oklahoma City Mexican restaurants, and I think put the food in the same league as some of the other restaurants in the Oklahoma City and Bethany area with an Aguascalientes connection. I will certainly look for more of these authentic dishes when I go back.
RESTAURANT DETAILS
RATING: 21
Cuisine: Mexican Aguascalientes
Cost: $$
Hours: Open Daily
Accessible: Yes
Smoking: No Smoking
Alcohol: Beer
| | |
| --- | --- |
| Chile Index: | |
Most Recent Visit
Jul. 27, 2012
Number of Visits: 10+
Best Items
Green Chile Stew, Charro Dinner
Special Ratings
Green Chile Stew:


Charro Dinner:


Chicken Guiso:


Rice:


Beans:


Guacamole:


Chips:


Salsa:


Salsa:

spicy
Tortillas:

corn
Tortillas:

flour
Agua de Melón:


Sopapillas:

MORE ABOUT THIS WEB SITE