okgourmet.com&nbsp &nbsp Home of Steve's Restaurant Reviews
SUPPLEMENTAL ARTICLES
Relating to Oklahoma Restaurants
Home &nbsp > &nbsp Special Features &nbsp > &nbsp Articles &nbsp > &nbsp Oklahoma Articles
OKLAHOMA CITY, OK--Papa Dio's
Oct. 13, 2012: Papa Dio's in The Village has been my favorite Italian restaurant in Oklahoma City for years, and I never get tired or ordering the same things (spaghetti with cacciatore sauce, chicken parmigiana, eggplant parmigiana, and Papa's special salad). There are several Italian restaurants in the city that I have not tried, and all indications are that some of them are very good. Thus I am not making any statements about which is the best Italian restaurant in the city, but personally I keep wanting to go back to Papa Dio's for special occasion Italian food.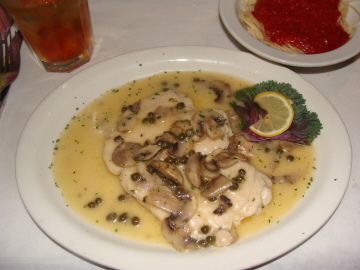 Chicken piccata at Papa Dio's
I thought I knew all the best items at Papa Dio's, but recently I tried the chicken piccata and found it to be excellent. The sauce had an excellent balance of flavors, and the ingredients were all top quality. Papa Dio's red sauce was served on a side dish of spaghetti, so I was able to enjoy two excellent flavors in the same meal.
MOST RECENT ARTICLES
are listed on the web site's home page: