okgourmet.com&nbsp &nbsp Home of Steve's Restaurant Reviews
Papa Dio's Italian Restaurant
10712 N. May Ave.
Oklahoma City, OK &nbsp The Village
(405) 755-2255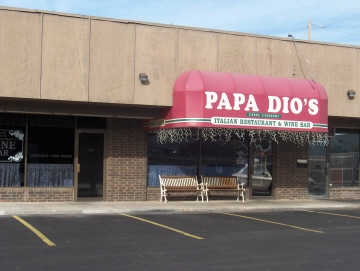 Papa Dio's is the type of place that does not always get a lot of publicity compared to some of the city's newer, splashier Italian restaurants, but its large group of loyal customers are evidence that it remains one of their favorites. Located in an aging strip mall in the Oklahoma City suburb of The Village, I suspect it is not a place many first time visitors to the city would likely go for Italian food. For residents who are more interested in good food than popular tourist areas, though, it remains one of the most popular restaurants in the city.
I will admit that I am a little biased about Papa Dio's. I have been going for so many years and enjoying it so much that it has largely become my idea of what Italian food should be. For years I have felt guilty that my favorite Italian food was at Papa Dio's in a strip mall, while when I tried Italian food from Boston's North End or in other large cities I did not like it as much. From what I have learned about Papa Dio's history, though, this is authentic Italian food (considering, of course, that Italy is a large country and Papa Dio's recipes are authentic for the region in which they originated). I do have some issues such as the chicken cacciatore using a chicken breast instead of a whole or half chicken, but for the most part I need offer no excuses for being a Papa Dio's fan.
Several items at Papa Dio's are my favorite in Oklahoma City, and are in the running for my favorite anywhere. Of course not everything is on this list. There are some items that I really do not enjoy very much, but there is nothing that is not well prepared and good quality.
The cacciatore sauce for many years has remained the best I have tried anywhere. The reason seems to be a combination of fresh ingredients and a good mix of flavors. Papa Dio's serves chicken cacciatore, but a rather unique item here is ordering spaghetti with cacciatore sauce on top (or one of the other various types of pastas that are available).
Papa Dio's is also my favorite place for chicken parmigiana, and by this I mean my favorite anywhere. The same can probably also be said for the chicken piccata, although I have limited experience with this at other restaurants.
I would classify Papa Dio's as country Italian cooking, and it is the kind of place where the food comes from family recipes. It is a "red sauce" restaurant, but the sauce is a higher quality than most. Most of all, though, I enjoy the items covered by the sauce. The meat, cheese, eggplant, and just about everything here has an exceptional flavor.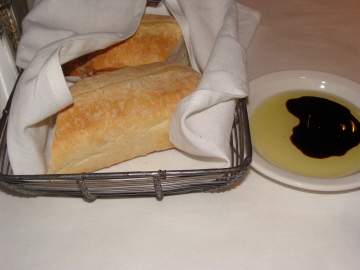 Complimentary bread served in the Wine Bar
There are two dining rooms, with the more informal one located next to the kitchen. The owners maintain a good family atmosphere, and used to go so far as to provide crayons for kids to write on the walls (but this is no longer encouraged). Large family style tables are available, as well as smaller tables. Dinner rolls are supplied to each table, making a good accompaniment to a salad or just serving as a before dinner snack.
A separate dining room serves as Papa Dio's wine bar. This upscale area with white tablecloths has mostly small tables for intimate dining, but serves the same food as in the regular dining area. Meals here come with excellent fresh bread that may be dipped in olive oil and garlic, leading to the danger of becoming quite full before the meal ever arrives.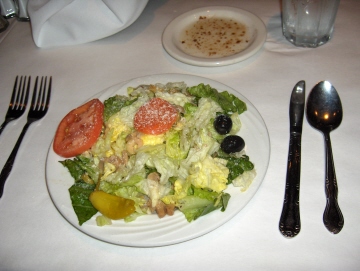 Papa Dio's salad is one of my favorites
The House Salad at Papa Dio's is one of the best anywhere. The iceberg lettuce may not be anything remarkable, but it is raised to new levels of flavor when saturated in this Italian dressing. Black olives seem to be very popular in restaurants, but I am a huge fan of green olives, of which Papa Dio's has made liberal use in the house salad. This salad may not match the ones at some upscale restaurants such as Boulevard Steakhouse, but for the ingredients that are used at Papa Dio's I have never encountered another salad in which they are put together so skillfully.
The Bean Soup makes another good appetizer, and a second variety of soup is usually available.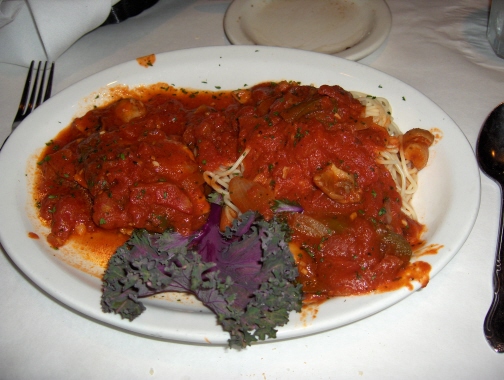 A half order of Papa Dio's chicken cacciatore with spaghetti
One of the best dishes at Papa Dio's is Chicken Cacciatore, with a strong wine taste, herbs, and fresh vegetables that is about as good as can be found anywhere. The few other Italian restaurants that even attempt this dish have not measured up to the one at Papa Dio's, or at least I have not found such a restaurant. While it is traditional to serve a whole or half chicken, Papa Dio's only includes white meat. It is primarily the sauce, however, that has enamored me so much with this dish. If I can find someone to split the dish with me, I prefer a half order that will either be done at no extra charge, or at an extra cost if an extra salad is included (most entrées come with Papa's Salad or another appetizer).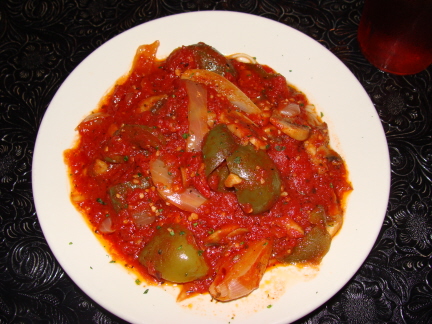 Spaghetti with cacciatore sauce can be served as a side with with any entrée
Spaghetti served with Cacciatore Sauce is available as a side dish with the Chicken Cacciatore or any other entrée (the side of spaghetti is free but a small cost is added when the cacciatore sauce is served). The pasta adds enough substance so that this is probably enough food for a small meal (but I usually order a salad along with it). Papa Dio's also offers a dinner plate of spaghetti with cacciatore sauce, which I am sure is much larger than the serving shown in this photo.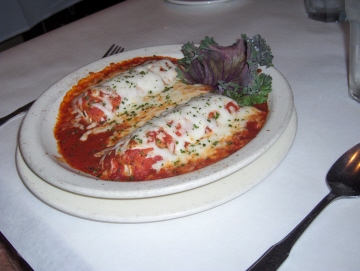 Papa Dio's manicotti
The Manicotti (listed under "Italian Specialties") is one of the better dishes served that comes with the standard "red sauce." Papa Dio's serves all of the cheese and pasta dishes normally found at Italian restaurants, and I do not remember all the ones I have tried, but the manicotti is the one I have always remembered as being the best.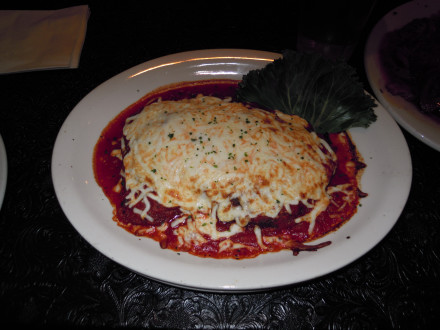 Chicken parmigiana
Two dishes of about equal quality (and are among the best dishes at Papa Dio's) are the Eggplant Parmigiana and Chicken Parmigiana. Both use excellent ingredients, with the herbs and spices giving them a flavor that I think is about the best I have ever eaten. The crust on the chicken parmigiana is probably the best feature of the dish, although the meat itself is also of excellent quality. The cheese on the dish does not seem to be any more outstanding than at any other restaurant, or maybe it is that the other ingredients are so good I do not really notice the cheese. The chicken dish is quite filling, and in my opinion is large enough for two persons.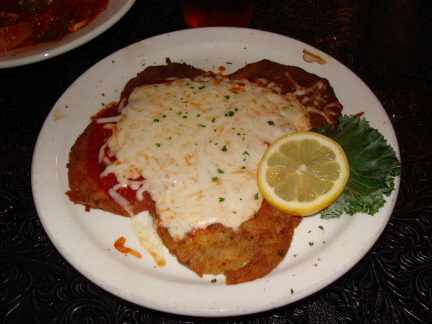 Eggplant parmigiana
The eggplant is just slightly less filling than the chicken. Normally I would say the chicken has a better flavor, but at Papa Dio's the eggplant has a flavor and texture that make it equal in quality (and there are very few restaurants in which this is the case). Like so many other dishes at Papa Dio's, the eggplant parmigiana here is the standard by which I judge all others (and so far I have not found another that I like better).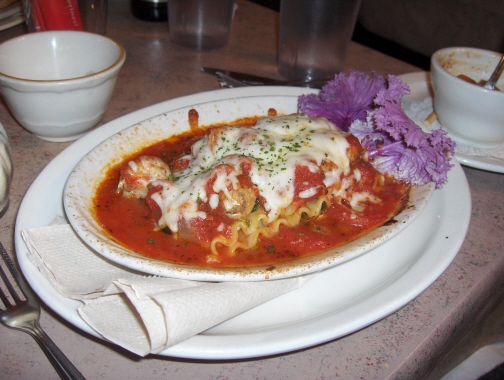 A half order of Papa Dio's spinach lasagna
Spinach Lasagna uses a light tomato sauce that is not overly spiced so that the other components-- pasta, cheese, and spinach-- can be enjoyed on an equal basis with the sauce.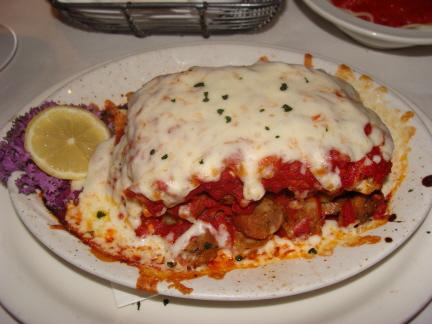 Sausage lasagna
The Sausage Lasagna was quite a bit more substantial than the spinach version, and I thought in a way in which the flavor of the meat overwhelmed everything else. A lot of people would appreciate the amount of sausage included in the lasagna, but I prefer something in which all of the flavors come out more evenly as it did with the spinach version.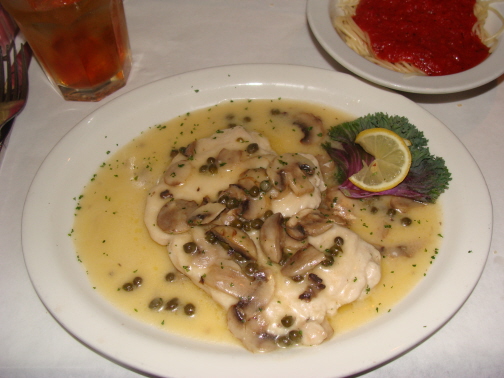 Chicken piccata
The Chicken Piccata was prepared with an excellent wine sauce, and I thought was a very good alternative to the cacciatore sauce (although without tomato). In fact, I was rather impressed that the best dishes at Papa Dio's come both with and without red sauce (and both with and without cheese). The side dish of spaghetti provides some red sauce to those who want it (although the spaghetti can be ordered with a number of different toppings). The chicken piccata seems to be one of the best and most popular dishes at the restaurant, but since I have only ordered it once I can only say that I really enjoyed it that one time.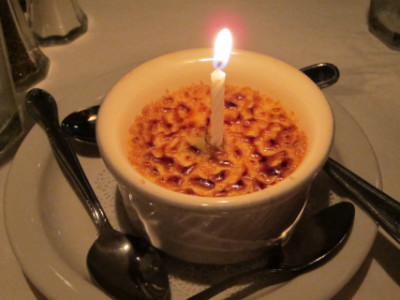 Crème Brûlée
Papa Dio's also serves excellent desserts such as the Crème Brûlée shown in the picture, but several of the other desserts have a reputation that keep people coming back for them.
If you believe that "simple is good" when it comes to Italian food, you will enjoy Papa Dio's. This is my "everyday" favorite Italian place, even though I may find other restaurants with individual dishes that I think are better (or at least do them a little differently to provide some variety).
One good feature of Papa Dio's is that they will split dinners at no extra charge (as with the spinach lasagna and chicken cacciatore that are pictured). For my appetite most of the dinner entrées at Papa Dio's are too large to eat by myself, but they do have smaller portions at lunch (available Tue. - Fri.).
For me personally, Papa Dio's is one of a small group of restaurants that I would miss the most if it were to close. I do not think I have ever experienced a time when the food was not up to expectations, or that it was not as good as I had remembered from previous occasions. This is truly a restaurant that I hope is around for a long time.
RESTAURANT DETAILS
RATING: 25
Cuisine: Italian
Cost: $$$
Hours: Dinner Mon. - Sat.; Lunch Tue. - Fri.
Accessible: Yes
Smoking: No Smoking
Alcohol: Beer, Wine
Most Recent Visit
Jun. 3, 2013
Number of Visits: 10+
Best Items
Chicken Cacciatore, Spaghetti Cacciatore, Chicken Piccata, Chicken Parmigiana, Eggplant Parmigiana, Spinach Lasagna, Papa's Special Salad
Special Ratings
Chicken Parmigiana:


Eggplant Parmigiana:


Chicken Cacciatore:


Chicken Piccata:


Spaghetti with Cacciatore Sauce:


Manicotti:


Spinach Lasagna:


Sausage Lasagna:


Pizza:

pesto
Papa's Special Salad:

Restaurant Web Site
Papa Dio's
MORE ABOUT THIS WEB SITE