okgourmet.com&nbsp &nbsp Home of Steve's Restaurant Reviews
SUPPLEMENTAL ARTICLES
Relating to Oklahoma Restaurants
Home &nbsp > &nbsp Special Features &nbsp > &nbsp Articles &nbsp > &nbsp Oklahoma Articles
BETHANY, OK--Thai Sweet Basil Express
Oct. 12, 2012: Thai Sweet Basil Express in Bethany is one of my favorite Thai restaurants in the Oklahoma City metro, both for lunch and for dinner. The dinner menu has some very good items that are not available on the lunch menu (although they can be ordered at lunch). If I do not feel the need to order one of the more exotic dishes, though, such as the pad ped with sweet Thai peppers, the lunch menu is a good deal. I almost always upgrade the lunches by adding two appetizers for a dollar extra.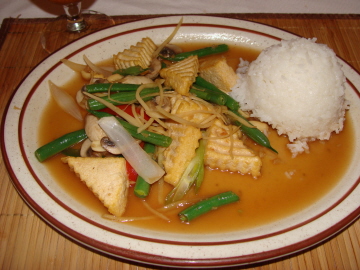 Thai ginger at Thai Sweet Basil Express in Bethany
There are two very good dishes I have tried lately, and I have a hard time deciding which one is better. The red curry was excellent, and I think is one of the top curries in Oklahoma City. I am showing the picture of the Thai ginger, though, because this is one of my favorite dishes when it is done well (and Thai Sweet Basil Express does it very well). Tofu is probably not as filling as the meat versions, but this is the one that I think has the best flavor. There are normally no Thai chiles to spice it up, but the ginger gives it plenty of zing.
The restaurant is small, and has a homey atmosphere. There is usually a good Thai music video playing, and I like the fact that I can make special requests for the spiciness or even the ingredients I want in many of the dishes.
MOST RECENT ARTICLES
are listed on the web site's home page: