okgourmet.com&nbsp &nbsp Home of Steve's Restaurant Reviews
SUPPLEMENTAL ARTICLES
Relating to Oklahoma Restaurants
Home &nbsp > &nbsp Special Features &nbsp > &nbsp Articles &nbsp > &nbsp Oklahoma Articles
OKLAHOMA CITY, OK--Grand Village
Oct. 10, 2012: Grand Village is one of several Chinese restaurants in Oklahoma City that I think can be justifiably considered to be west coast quality, but this restaurant seems to largely fall under the radar screen. It is about a mile west of the main concentration of restaurants in the Asian District, and the exterior does not really give an indication that the food is more authentic than the average Chinese restaurants in the city.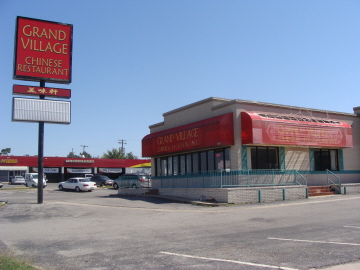 Grand Village in Oklahoma City
No single Chinese restaurant is my "favorite," and all of the ones that serve traditional Chinese food have certain features that I like. The biggest advantage of Grand Village is that all of my experimentation with different dishes has led to me to food that I really enjoyed. I do know to stay away from certain dishes on the Chinese menu, but the biggest help has been the recommendations I have received from staff. One of the reasons I like to come to Grand Village is to try new dishes for the first time, but I think the people here have kept me from going too far out on a limb in my desire to "experiment."
It also seems as if all the food comes straight from the market, and even if I play it safe with what I order, it has an excellent flavor that is the way Chinese food is supposed to be. Grand Village has lunch specials and other ways to save money, but even the larger plates offer a good value for the quality you receive, and many of them are large enough to feed more than one person.
The only negative experience I had with Grand Village was when I tried to come on Christmas day and found it too packed with customers to even deal with trying to order anything (but people do tend to seek out the restaurants with the best food on holidays).
MOST RECENT ARTICLES
are listed on the web site's home page: