okgourmet.com&nbsp &nbsp Home of Steve's Restaurant Reviews
Grand Village Chinese Restaurant (Closed)
2336 N.W. 23rd St.
Oklahoma City, OK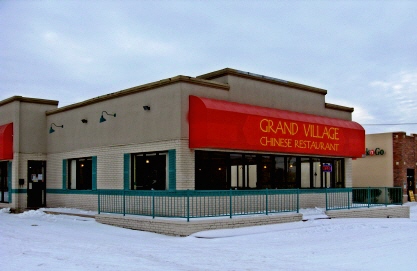 Grand Village opened in 2006 taking over the building of the former California Cafe, and following the same concept of offering authentic Chinese cuisine that is typically found in a west coast Chinatown restaurant. Eric, the chef at Grand Village, explains however that the food is not like it was at California Cafe. He comes from the "second generation" of Chinese cooks in America who believe in making the food lighter, less oily, more healthy, and with no MSG. Although I never talked to the owner of California Cafe to find out his philosophy of cooking, I am convinced after sampling only a few items at Grand Village that Eric's cooking style is providing top-notch Chinese cooking.
The menu, décor, and just about everything at Grand Village gives the feeling of the "real" Chinese restaurants that people usually have to go to big cities to find. Grand Village has kept much of California Cafe's furnishings including several large round tables for groups to eat family style. My main gripe about California Cafe was the customer service, but that particular shortcoming seems to have been improved quite a bit with the new restaurant.
The food at Grand Village is southern Chinese, or Cantonese style. My reviews generally label this cooking as "Hong Kong" style to distinguish it from the American version of "Cantonese" cooking that serves such items as sweet and sour pork, egg fu yung, and chop suey. Grand Village does serve sweet and sour pork on the lunch menu, and a few other items on both the lunch and dinner menu that will look familiar to most people. There is so much more to try here, though, that it is apparent Grand Village is not an ordinary Chinese restaurant.
Located a short distance outside Oklahoma City's "Asian District," Grand Village seems to have dispensed with the "secret" Chinese menu that is the source of much of my frustration with many of its competitors. Specials are listed on a board, and the regular menu seems to have a predominance of traditional Chinese dishes to the extent that it really is the Chinese menu.
Grand Village is like most other Chinese restaurants in offering a lunch menu at reduced prices. Some of the items, such as kung pao chicken, sweet and sour pork, and shrimp with broccoli, are probably not what I would usually order, but at the same time it offers choices for customers who want the most familiar items.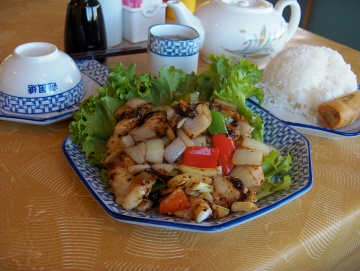 Fish with black bean sauce is a lunch special
Fish with Black Bean Sauce, though, looked interesting enough that I wanted to try it, especially at "lunch special" prices. The waitress did not know what type of fish was being used, but I suspect it may vary according to what can be purchased. There were too many onions for my taste, but the other vegetables were quite good, including fresh tomatoes. The black bean sauce was about as flavorful as I have had anywhere, including the west coast. The chef seemed to have added quite a few extra spices not always found in the sauce, including a liberal dose of ginger. The black beans themselves were fresh, and it tasted as if every ingredient was purchased from the market and the sauce was made from scratch.
Lunch specials come with Hot and Sour Soup-- not quite Cantonese but it was about as good as the one at Dot Wo (in other words, one of the best in OKC).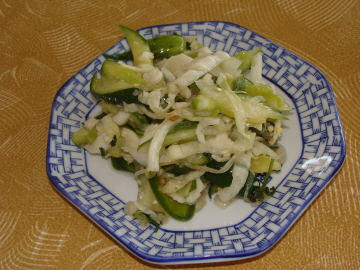 Cucumber salad served as a complimentary appetizer
The Cucumber Salad is a spicy appetizer that is normally served with all meals (although I am not sure about the lunch specials). It had a flavor that reminded me of the salads served in Japanese restaurants, and it seemed to add a touch of authenticity to the Asian food served at Grand Village.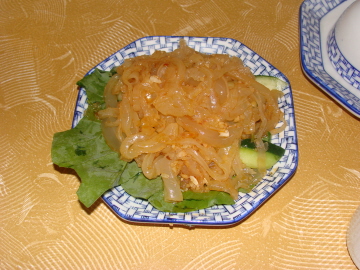 Jellyfish
As much as I liked the cucumber salad, the Jellyfish appetizer was even more of a treat (although I wished I did not know what it was before I tried it). My experience from very good sushi restaurants is that they do not serve any type of seafood that is not good, no matter how it sounds to Westerners, and so far the same has been true with the food I have had at Grand Village. The appetizer was spicy (even more so than the cucumber salad), and served to cleanse the palate in preparation for the main meal.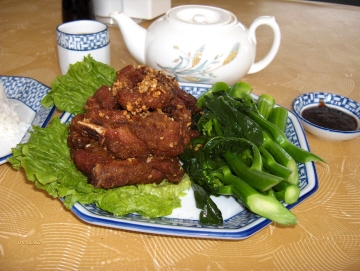 7-Hour Ribs with Chinese broccoli on the side
An item offered as a special on the board (written in English, Chinese, and Vietnamese) was 7-Hour Spare Ribs with House Garlic Sauce. While I am not often in the mood for a strictly meat dish, the restaurant prepared a side order of Chinese Broccoli with a special dipping sauce. The ribs were fried, and I would say were very close to salt and pepper style with garlic on top. This was quite delicious, but I felt rather guilty eating a meat dish with such a high fat content (although thankfully they did not supply an overabundant portion of meat as is the case in most restaurants). It was explained to me, though, that these "pork chops," coming from the rib area, are healthier than the typical pork chops that come from the leg or other portions of a pig's anatomy.
Chef Eric says he not only attempts to order the best cuts of pork, but the same is true with the beef, fish, and other meats.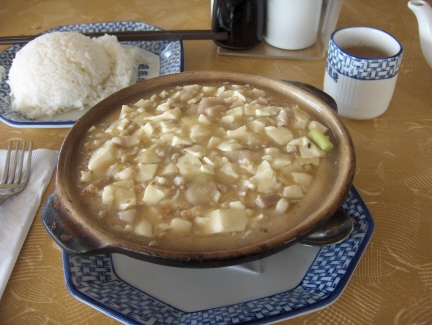 Salty fish with tofu hot pot
The Salty Fish with Tofu Hot Pot looked as if it was mostly tofu, but it actually contained a good amount of meat. The salty fish was more for flavor than anything else, with Chinese chefs using small amounts in most dishes to make them more interesting. Pork is usually added (as it was here) for meat, as most people (including me) would not want to eat a whole dish of just tofu. I could probably think of traditional Chinese dishes that would be more interesting, but I liked this one.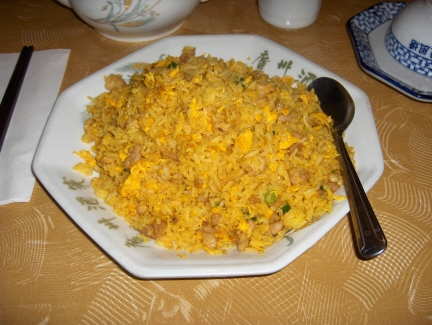 Salty fish and chicken fried rice
A dish that souded much the same, but that I really would recommend to people who have not tried it before, was Salty Fish and Chicken Fried Rice. This was listed on the menu under "Fried Rice," and several of the rice dishes souded interesting. The waiter said the salty fish version was the chef's specialty, and I found it to be possibly the best fried rice I had ever tried. The salty fish was used in the cooking process, but the chicken was the only meat that was obvious by looking at it. To me the secret of it seemed to be that the salty fish was used in such small quantity, and combined with other flavors, so that it added flavor without overwhelming the other ingredients that were used. The yellow color was what I usually expect in fried rice, but this rice was moist and somewhat sticky rather than the hard, dry rice I many times find in restaurants.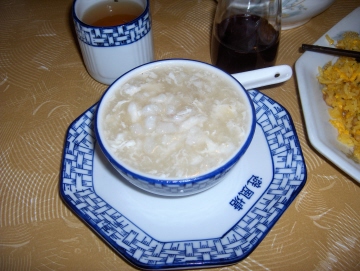 A small bowl of crab meat with fish maw soup
Crab Meat with Fish Maw Soup is one that I consider a delicacy, at least when it is cooked correctly with a good texture and flavor, as it was here. This comes in a large bowl and can either make a meal or be shared.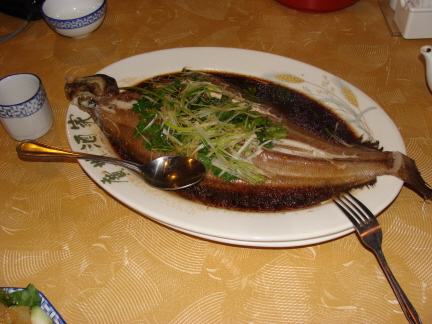 Steamed halibut
Another excellent way to try the seafood here is with the steamed whole fish, and in this case I tried the Steamed Halibut. Steamed fish, more than any other cooking method, requires the freshest fish. Because of this it tends to be listed only on the specials board, and I thought the one I ordered was very fresh. In this case the fish was about the right amount for two persons.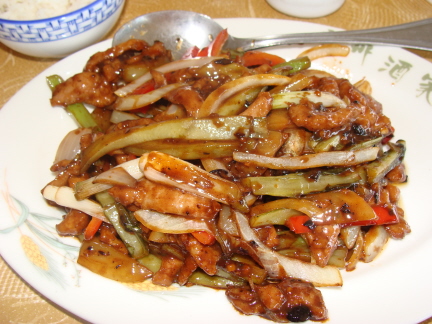 Shredded pork with preserved vegetables
The various dishes at Grand Village have really all been about equally well prepared, but I am listing the Shredded Pork with Preserved Vegetables as one of the best dishes because it was very much to my taste and is not something that is found in every Chinese restaurant. I thought this was a very good mixture of meat and vegetables with the tart taste of the preserved vegetables being offset by a sweet dark sauce. If Hong Kong cooking is known for its complexity, this dish was a very good example.
The Jasmine Tea was brewed with loose leaves and was a good addition to a good meal.
I am a big fan of the fact that the menu is loaded with traditional Chinese dishes, specials are listed on the board, and there is no "secret" menu that they only offer to Chinese people or other customers who ask for it. Everyone who comes to Grand Village is treated to traditional Cantonese style food if they want it, or more American style dishes if that is their desire.
Some spicy dishes and food from other regions of China are offered, and I suppose this is one of the advantages of having a "second generation" chef. The staff has been quite helpful in suggesting dishes that are the restaurant's specialty, although everything I have tried has been good. If I had any warnings to make it would probably be that lunch gets very hectic, and if you go on a holiday such as Christmas it may be quite difficult to get a table. The best results have been when I have been able to talk to chef Eric or his wife at some length, but the food is good even if you go when they are quite busy. This is really a restaurant that could stand up to the competition in much larger cities.
RESTAURANT DETAILS
RATING: 25
Cuisine: Chinese Hong Kong
Cost: $$
Hours: Closed Mon.
Accessible: Ramp into building, but no designated parking
Tea: Jasmine (loose leaves)
MSG: No
Smoking: No Smoking
Alcohol: Beer and Wine
Buffet: No
Most Recent Visit
Sep. 28, 2011
Number of Visits: 8
Best Items
7-Hour Spare Ribs, Shredded Pork with Preserved Vegetables, Salty Fish Fried Rice, Fish Maw Soup
Special Ratings
Fish with Black Bean Sauce:


7-Hour Spare Ribs:


Shredded Pork with Preserved Vegetables:


Salty Fish Hot Pot:


Salty Fish Fried Rice:


Fish Maw Soup:


Steamed Halibut:


Hot and Sour Soup:


Jellyfish Appetizer:


Cucumber Salad Appetizer:

RELATED ARTICLES
Aug. 19, 2015 : Authentic Chinese Lunches in OKC
MORE ABOUT THIS WEB SITE