okgourmet.com&nbsp &nbsp Home of Steve's Restaurant Reviews
SUPPLEMENTAL ARTICLES
Relating to Oklahoma Restaurants
Home &nbsp > &nbsp Special Features &nbsp > &nbsp Articles &nbsp > &nbsp Oklahoma Articles
OKLAHOMA CITY, OK--Ingrid's Kitchen
Oct. 5, 2012: Ingrid's Kitchen is not only one of Oklahoma City's most popular restaurants, but is well known nationally for its German cuisine. I have not found all the dinner entrees I would like to order, and that are available at Old Germany in Choctaw or Royal Bavaria in Moore. However, for sandwiches, desserts, and casual meals at a good price, Ingrid's Kitchen is hard to beat.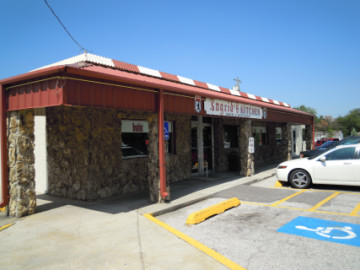 Ingrid's Kitchen on N.W. 36th just west of Pennsylvania Ave.
Normally I like to use this column to highlight my favorite dishes or ones I have tried recently that are particularly good. At Ingrid's, though, I keep going back to the old standbys such as the reuben or turkey reuben sandwich, Wiener schnitzel, and the chicken jäger schnitzel sandwich served as a special (the most recent information I received is that it is available on Mondays).
The cakes are well known and include some of my favorites such as black forest, but the German pastries such as the cream horn are an equal treat. In fact, the pastry counters are almost overwhelming in their variety (and everything I have tried has been good).
For me the German side dishes are no small part of the reason I enjoy Ingrid's, with the German potato salad being outstanding (but equally enjoyable to me is either the sauerkraut or red cabbage).
MOST RECENT ARTICLES
are listed on the web site's home page: