okgourmet.com&nbsp &nbsp Home of Steve's Restaurant Reviews
SUPPLEMENTAL ARTICLES
Relating to Oklahoma Restaurants
Home &nbsp > &nbsp Special Features &nbsp > &nbsp Articles &nbsp > &nbsp Oklahoma Articles
OKLAHOMA CITY, OK--El Sombrero
Sep. 17, 2012: El Sombrero at 4491 N.W. 50th has closed, but there is still a north side El Sombrero on Britton Road near Johnnie's in The Village.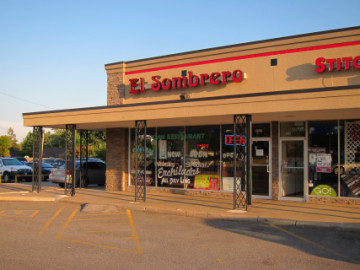 El Sombrero at 2624 W. Britton Rd., one of several in Oklahoma City
I think El Sombrero is open every day, but I do not have a copy of their official hours. With a menu full of Americanized Mexican food, there are a few items they recommend as being "authentic." The tacos al pastor (one of the authentic menu items) in my opinion were anything but authentic, being covered with a red sauce and with no discernible pineapple flavor. However, I thought they were good pork tacos. I also liked the horchata (although it is not the best in town). The rice, chips, salsa, and guacamole were somewhat of a letdown, but not as much as at many Mexican restaurants. I will probably go back and try some other items.
MOST RECENT ARTICLES
are listed on the web site's home page: