okgourmet.com&nbsp &nbsp Home of Steve's Restaurant Reviews
El Sombrero Mexican Restaurant (Closed)
2624 W. Britton Rd.
Oklahoma City, OK &nbsp The Village
(405) 463-3358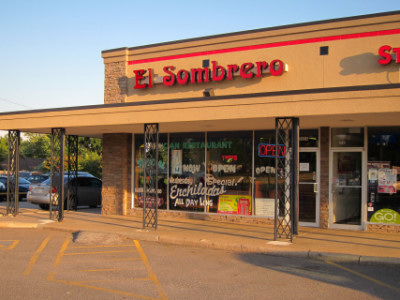 Note: This restaurant has moved to 4900 N. May Ave., Oklahoma City.
El Sombrero is a mini-chain of several restaurants in the Oklahoma City area, and follows a common pattern of having locations on both the south and north side of the city. Some of my observations of El Sombrero come from a previous visit to the location at N.W. 50th and Meridian, but that location closed in August 2012 (the same month I made my inaugural visit to Britton Road location).
With so many locations I have to assume that each has its own cook, and the food may vary from one place to the other. There are some common themes, though, including the same menu being offered at each site. One thing I noticed is that they all offer aguas frescas drinks, and there are other indications that they offer authentic Mexican food in addition to the standard Tex-Mex menu.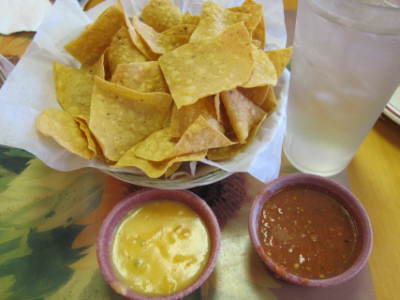 Chips and salsa
The Salsa was responsible for just about all the spiciness I experienced in the meal, and was actually much spicier than I usually find as the default salsa brought to the table when customers first sit down. When I visited the location at N.W. 50th and Meridian I tried some of the special salsa which I found more flavorful, but I don't think it was a whole lot spicier than the regular salsa.
I thought the chips were better than I normally find, but still not something that was very exciting.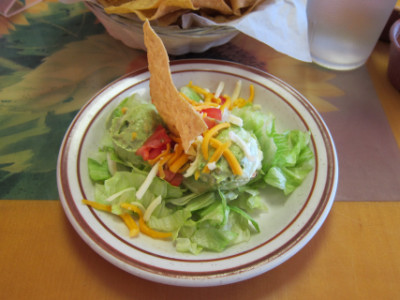 Guacamole
The Guacamole was fresh but did not have a whole lot of flavor. It comes in three sizes, with the one shown in the photo being the small order. I thought it was relatively inexpensive for the serving size that you get.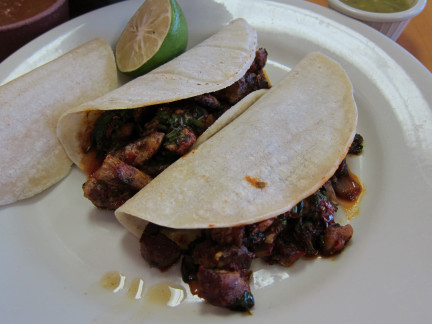 Tacos al pastor
At the other El Sombrero I had enjoyed the tacos al carbon, and here I tried another one of the "authentic" tacos, Tacos al Pastor. These normally come with flour tortillas, but I asked for corn. They had a very good red sauce-- I really do not know where the tradition originated of putting this sauce on tacos but if restaurants are going to do it I at least enjoy sauce that has a good flavor. Normally tacos al pastor are flavored with pineapple but El Sombrero provided a lime to add as desired. These seemed to be so different from traditional tacos al pastor that I'm not sure they were a good example of this dish, but I did think they had a good flavor.
There are several styles of enchiladas served including one with chile verde, and some of them seem to be Mexican style. The Cheese Enchilada that I sampled here was Tex-Mex style, or maybe it is more properly called Okie-Mex (since I generally find the food to be different here than in Austin and San Antonio). Although I generally have pretty negative things to say about Okie-Mex enchiladas, I did appreciate the fact that the ones at El Sombrero were fresher and better tasting than most (and the cheese was good).
The Refried Beans were very good, but I did not have the same opinion when I tried them at the other location.
The Horchata drink was good, with a strong cinnamon taste.
The two taco dishes I have tried have both been good, but some of the enchiladas seem to hold some promise as well. I think that just about all north side Mexican restaurants are expensive compared to what I usually pay in El Paso, but El Sombrero is less expensive than most. They also offer daily specials and lunch specials.
RESTAURANT DETAILS
RATING: 19
Cuisine: Mexican
Cost: $$
Accessible: Yes
Cooking Oil: Vegetable
Smoking: No Smoking
Alcohol: Beer
Additional Location: 2838 S. I-35 Service Rd.
| | |
| --- | --- |
| Chile Index: | |
Most Recent Visit
Aug. 8, 2012
Number of Visits: 1
Best Items
Tacos al Pastor, Beans, Horchata
Special Ratings
Tacos al Pastor:


Enchiladas:


Refried Beans:


Rice:


Chips:


Salsa:


Salsa:

special
Horchata:

MORE ABOUT THIS WEB SITE