okgourmet.com&nbsp &nbsp Home of Steve's Restaurant Reviews
SUPPLEMENTAL ARTICLES
Relating to Oklahoma Restaurants
Home &nbsp > &nbsp Special Features &nbsp > &nbsp Articles &nbsp > &nbsp Oklahoma Articles
OKLAHOMA CITY, OK--Saturn Grill
Aug. 25, 2012: Saturn Grill is a close competitor to Cafe 7 and ND Food in the type of food it serves, and also joins them in the competition for the best cupcakes in the city.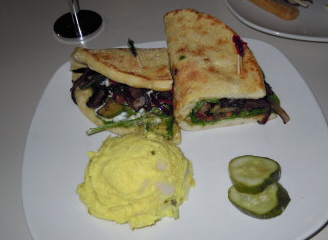 Grilled veggie at Saturn Grill
The grilled veggie sandwich has been my favorite menu item at Saturn Grill. With quite a few sauces that go on the various sandwiches, the pesto mayo on the grilled veggie has been one of the best (and the vegetables are excellent as well). One thing to watch for, though, is the list of daily and seasonal specials served at Saturn Grill (including a daily soup). Saturn Grill has quite a few dishes that make it a good dinner restaurant (and not just a good sandwich shop, although it certainly is this).
MOST RECENT ARTICLES
are listed on the web site's home page: