okgourmet.com&nbsp &nbsp Home of Steve's Restaurant Reviews
Saturn Grill (Closed)
4401 W. Memorial Rd.
Oklahoma City, OK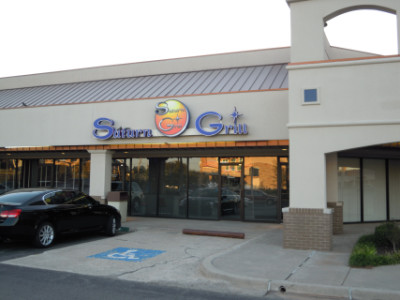 Note: In Sep. 2014 this restaurant discontinued its dinner hours, and in October closed for good.
A sign on the door indicated that the Avondale Dr. location was still open for business.
Saturn Grill is one of several local restaurants whose concept revolves around sandwiches, but Saturn Grill goes well beyond what I would call a "sandwich shop." The menu includes soups, salads, pizza, and pasta, but the "Seasonal Specials" (which offer different items each day of the week) include some substantial sized and quite gourmet dinners to supplement the standard lunch-based menu. I have seen some of Sataurn Grill's commercials saying to try it for dinner, and I think it has some of the best dinners of any restaurant in Oklahoma City.
The original Saturn Grill just off of Western and N.W. 63rd has long been a popular hangout, and has proved the restaurant's popularity. The second location at Memorial Road and Meridian has been so successful it has now opened a third location in Midtown. Hours at the Memorial location are from 10:30 a.m. to 9:00 p.m. Monday through Saturday.
The regular menu is priced mostly between seven and eight dollars, and so far my favorite items from it are the vegetarian sandwiches. The seasonal menu mostly consists of items that cost more, but these have overwhelmingly been my favorite items at the restaurant. The only problem is that they keep changing the menu, both seasonally and daily, so it is very hard to get my favorite items on repeat visits. I can usually find something I like just as well, but certain items such as the vegan cous cous stew are ones I wish they would put on the regular menu.
My rating of Saturn Grill is a combination of the fact that I really enjoy some of the specials and the fact that the best ones are not always available. Saturn Grill not only changes the menu seasonally, but within the seasonal menu there are daily specials which are different each day of the week. Cafe 7, which is probably Saturn Grill's closest competitor, has sandwiches and regular menu items which I generally think are better than at Saturn Grill. Out of the two restaurants I have had better meals at Saturn Grill, but they were not from the regular menu and I cannot even predict when these items will be served.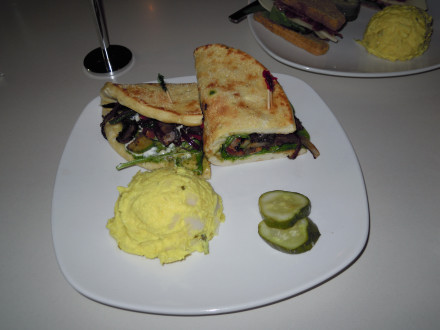 Grilled veggie sandwich
The Grilled Veggie Sandwich is one of the best choices from the regular menu that I have found. For me this sandwich is very good when I have a modest appetite, but I want very good quality. The vegetables were grilled, with zucchini and portabella mushrooms being the most prominent of the several types of vegetables served. The pesto mayo was sweet, but had a good flavor and went well with the sandwich. The flat bread was very fresh and flavorful, and was probably more filling than other types of bread. Overall this was one of the best vegetarian sandwiches I have tried.
Potato Salad came with the sandwich, and there seems to be very little choice about getting any side dish besides this one. I have had several different experiences with the potato salad with different results. Sometimes the mustard flavor and texture are top notch, and I am happy that it is neither dry nor too runny. Other times my experience has been with a serving that seemed too small and with too little flavor. The only conclusion I can draw is that since the potato salad is made in house it is subject to some variability in the way it is prepared.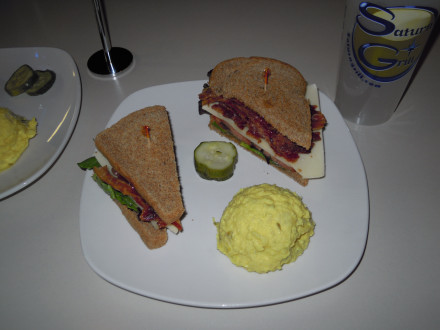 S B L T (Swiss cheese, bacon, lettuce, and tomato)
The S B L T was more than a bacon, lettuce, and tomato sandwich, but the "extras" made it less desirable to me. The bacon was crispy and cooked the way it should be, and the tomatoes were fresh (something that is apparently hard for many other restaurants serving a BLT to find). The Swiss cheese, though, made the flavor different than is typically found in a BLT sandwich. The biggest drawback for me, though, was that the flavor of the honey mustard did not seem to go well with this sandwich (as opposed to the pesto mayo which complemented the veggie sandwich perfectly).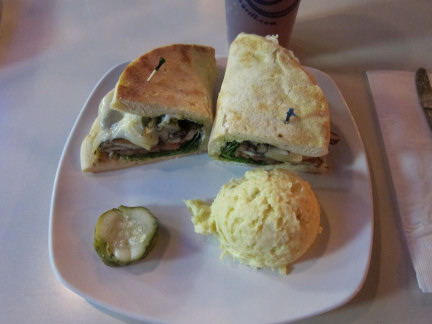 Portabella mushroom sandwich
The Portabella Mushroom Sandwich had fresh mushrooms, spinach, tomatoes, Swiss cheese, and the same pesto mayo that I enjoyed on the grilled veggie sandwich. The downfall of the portabella sandwich, though, was that I thought it had too much garlic. The flat bread made it very filling and otherwise it was a very good sandwich.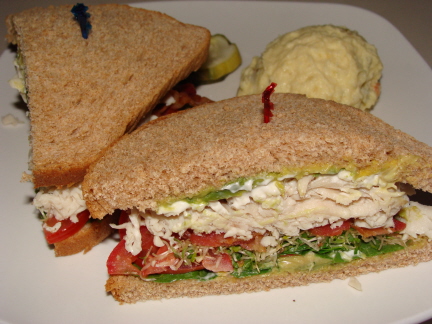 West coast turkey club
The West Coast Turkey Club came with spinach, tomato, bacon, avocado, alfalfa sprouts, & mayo on honey wheat. I will have to say that I liked this bread better than the flat bread served on most sandwiches, and overall I liked everything in the sandwich. When it came to the avocado, though, I really could not taste it, and when I opened the sandwich to examine it I only saw a thin layer of green stuck to the bread that I assumed was the avocado. This was a very good sandwich with a good taste, but I think it fell just short of getting five stars.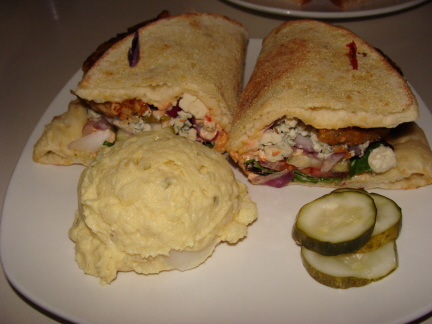 The veggie burger is one of the Monday specials
The Veggie Burger was actually a pattie that they will substitute at no extra charge instead of the Monday Special chorizo burger. The veggie burger also had different toppings than the chorizo burger, substituting a blue cheese dressing for the "chipotle ketchup" served on the regular burger. I am not sure of the wisdom of making this substitution because I liked the veggie pattie more than the blue cheese, and I know that in El Paso several restaurants have been very successful serving Southwestern style veggie burgers (the regular chorizo burger at Saturn Grill is Southwest style). There was nothing bad about the sandwich-- it was just disappointing (sort of like the first time I tried a California style hamburger with salad dressing after growing up on Oklahoma style hickory smoked sauce).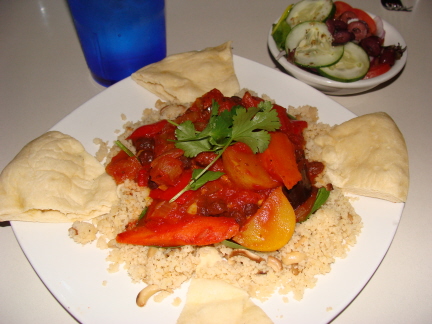 Vegan cous cous stew
I also need to report how excellent the Vegan Cous Cous Stew was (served as a Tuesday special), even though it is no longer listed on the menu as one of the specials. This was made with eggplant, tomato, potatoes, cashews, and cous cous, along with very fresh pita. Janet at Nunu's says that she cannot always get fresh eggplant, so this may be a reason for the change in Saturn Grill's menu (and the specials menu does say that it is "Seasonal"). The fact that Saturn Grill may have some special dishes that are not always available is probably as much of a reason to go, though, as it is a reason to stay away. I think that whatever they are offering on any particular day will also be pretty good.
Red velvet cupcake
Saturn Grill joins two other similar style restaurants (Cafe 7 and ND Foods) by also offering very good cupcakes. In fact the cupcakes at Saturn Grill, made by Sweete Memories, are among the best in the city. I thought the Red Velvet Cupcake, shown in the photo, was not as good as the Mocha Cupcake, but it is hard to go wrong with any of them.
Soft drinks and tea are self-serve, and they do have beer and wine. I think the choices here are a little bit more limited than at Cafe 7, but I do not find Cafe 7 to have better quality (just better choices). The exception may be with vegetarian items, for which Saturn Grill seems to be one of the best in the city.
The baseline of Saturn Grill is pretty high, and I always like the freshness and quality even though I have had mixed reactions to the flavors in many of the dishes. As with Cafe 7, I think the value received for the money spent is very high.
My Comments in a Nutshell
What I like most:
High quality, interesting food
Seasonal menu which usually has my favorite items
Best cupcakes in town (made at Sweete Memories, which is owned by Saturn Grill)
Disappointments:
The seasonal menu changes frequently, and it is very hard to predict when they will be serving some of my favorite items.
Beginning fall 2014 I am very disappointed that the Memorial Rd. restaurant is no longer open for dinner.
Things to know:
One of the reasons I like the seasonal specials is that they are generally more filling than the regular menu (many sandwiches on the regular menu are good, but they are not enough food for me at dinner).
This restaurant is very comparable to Cafe 7. I think Saturn Grill has better vegetarian sandwiches, but Cafe 7 has a couple of meat based sandwiches that I like very much. I go to Cafe 7 for pasta dinners. I think the seasonal menu is better at Saturn Grill.
RESTAURANT DETAILS
RATING: 22
Cuisine: Sandwiches
Cost: $$
Hours: Lunch only (Closed Sun.)
Accessible: Has handicapped parking, but I think the ramp is unsuitable for wheelchairs
Additional Locations: 6432 Avondale Dr., 1012 N. Walker Ave.
Smoking: No Smoking
Alcohol: Beer, Wine
Most Recent Visit
Aug. 22, 2014
Number of Visits: 10+
Best Items
Vegan Cous Cous Stew, Teriyaki Salmon Cakes, Orange Chipotle Glazed Pork, Grilled Veggie Sandwich, Portabella Mushroom Sandwich, Mocha Cupcake
Special Ratings
Grilled Veggie Sandwich:


Portabella Mushroom Sandwich:


West Coast Turkey Club:


SBLT:


Cheese Tortellini:


Meat Loaf Sandwich:


Potato Salad:


Mocha Cupcake:


Red Velvet Cupcake:

Seasonal Specials
Vegan Cous Cous Stew:


Teriyaki Salmon Cakes:


Orange Chipotle Glazed Pork:


Veggie Burger:

Restaurant Web Site
Saturn Grill
MORE ABOUT THIS WEB SITE