okgourmet.com&nbsp &nbsp Home of Steve's Restaurant Reviews
SUPPLEMENTAL ARTICLES
Relating to Oklahoma Restaurants
Home &nbsp > &nbsp Special Features &nbsp > &nbsp Articles &nbsp > &nbsp Oklahoma Articles
OKLAHOMA CITY, OK--Cous Cous Cafe
Aug. 18, 2012: Cous Cous Cafe is on the west side of May Avenue, just south of N.W. 63rd Street in Oklahoma City, and until they got their sign about a year ago it was somewhat hard to find. This has not stopped them from having a steady stream of customers, though, mostly through word of mouth. Although they serve very good Mediterranean cuisine (along with several other restaurants in town that are also very good), Cous Cous specializes in Moroccan cuisine and always has a list of special tagine plates that are available.

My most recent visit was during the Ramadan celebration which ends this weekend, and I thought the special Ramadan buffet was interesting.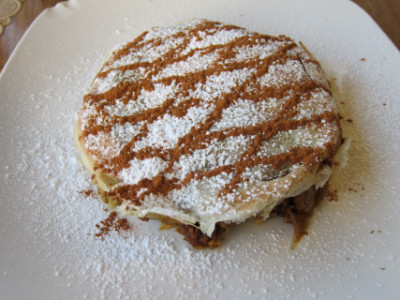 Chicken bastilla (from the specials board).
One very good item served on my latest visit was Chicken Bastilla, a Moroccan style chicken pie with sugar and cinnamon on top. Between this, the sweet tea, and the lemon cake (all excellent, by the way) I don't know how I avoided getting a sugar overload, but I guess my body has built up a resistance to it over the years. Seriously, though, Cous Cous Cafe is an excellent place to try authentic Moroccan cuisine.
MOST RECENT ARTICLES
are listed on the web site's home page: