okgourmet.com&nbsp &nbsp Home of Steve's Restaurant Reviews
Cous Cous Cafe
6165 N. May Ave.
Oklahoma City, OK
(405) 286-1533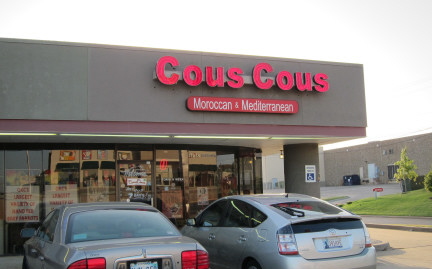 On my initial visit to Cous Cous Cafe in January 2008 shortly after the restaurant opened there was not even a sign in front indicating its location. This strategy seemed to work, though, and the restaurant remained without a sign for over three years (although it finally added one at the end of 2011). Still, though, most customers seem to come by word of mouth or by reviews they have seen on the Internet. Based on its food, I think there is good reason for the word to spread.
Cous Cous is also interesting because it is very near Zorba's Restaurant, with Cous Cous Cafe on the west side of May Avenue a short distance (maybe two blocks) north of Zorba's. My initial belief was that both restaurants offered Middle Eastern food and would be in competition with each other. Both have sandwiches and familiar items such as falafel. Zorba's is a large restaurant with a bar that caters to families and large groups, while Cous Cous is rather small with a few tables (and no alcohol is served). Although Cous Cous looks more expensive from the decor, I do not believe it is actually priced any higher than Zorba's by the time you add up all the items that are typically ordered to make a full meal.
The reality about Cous Cous Cafe is that it serves a very unique style of food. The food here is from Morocco, while Zorba's has dishes from "Spain to Cyprus" (and no other restaurant I know about in the city specializes in Moroccan cuisine). I am not an expert on Morocco, but I think the food at Cous Cous Cafe is very representative of the country.
When I first went to Cous Cous Cafe they seemed to be staying true to tradition by serving French Bread as an appetizer (and no pita was served with the meal). The bread tasted home made, and I was happy this was chosen to go with the meal. The French bread is no longer served, but otherwise there have been no changes in the food that I thought have detracted from the meal.
The hot Moroccan Tea, made with a traditional recipe of green tea and mint, was one of the features that most attracted me to the restaurant when I first started going, and is still as good as ever. The tea is slightly sweetened, and evidences the same balance of flavors I find in the food. To me this tea is a special treat, especially since some other Mediterranean restaurants that used to serve similar tea have now discontinued it.
Cous Cous Cafe started out offering different daily specials that were repeated each week. Now, though, I think many of the items formerly offered as specials have been added to the menu. The main variable at the restaurant is the list of tagine dishes written on a chalk board that changes daily.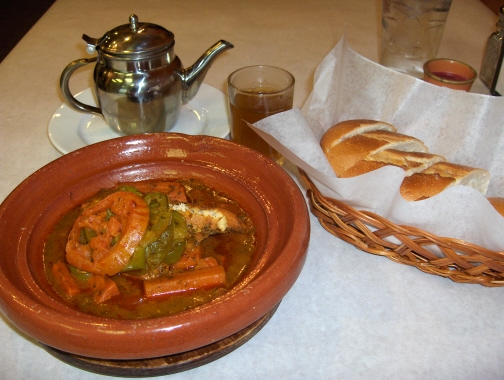 Tajine plate of cobia fish fillet (occasionally offered as a special)
My initial visit on a Saturday night had two specials, lamb or fish served in a tagine dish where the meat was served in sauce that resembled a stew. The one I chose was the Cobia Fish Fillet Tagine with a white, distinctly non-fishy tasting, mild fish (a great find for an inland city!). Cobia is popular in Morocco, and I think the tagine dish must be a traditional recipe. The sauce was made with prune, apricot, and honey, but was not as sweet as this may sound. Instead, this was one of the most well balanced, flavorful sauces I have ever tried, and paired with an excellent fish, made one of the all time best Mediterranean style dinners I have experienced.
There was no salad served with the meal, but with vegetables such as carrots and tomato cooked in the tagine, the dinner covered just about all of the food groups.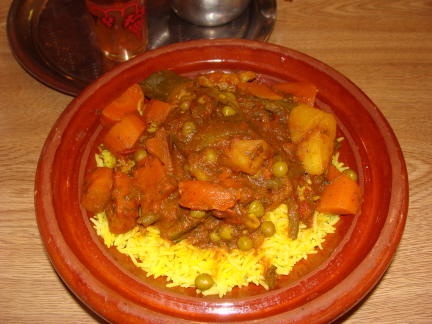 Vegetable tagine
Since my initial visit I have yet to go to Cous Cous when the Vegetable Tagine was not listed on the "tagines" board. This dish provides an even larger quantity of vegetables than other tagine dishes which include vegetables (and not all of them do). When I first ordered the vegetable tagine for dinner it was not enough to fill me up, but on subsequent visits it has turned out to be sufficient (meaning that first time visitors might want to stick with the meat dishes if their hunger level is on the normal to high side).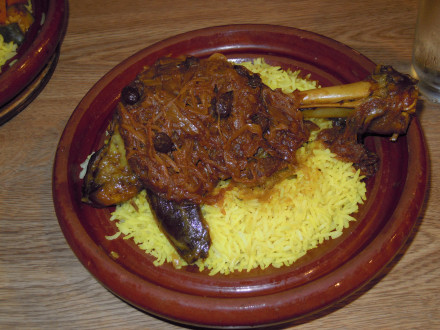 Lamb special
On another visit I was able to try the Lamb, a dish consisting of a very tender "fall off the bone" leg of lamb with a sweet sauce on a bed of rice. It was listed as a daily special, but is one of the tagine dishes that seems to be served on a regular basis (along with chicken, beef, and vegetable tagines). I think it was just called the "lamb special," but it had the same type of sweet sauce as the tagines (but did not have the carrots and other vegetables served in the fish and vegetable tagines). In any case, this was one of the better dishes I have tried at Cous Cous.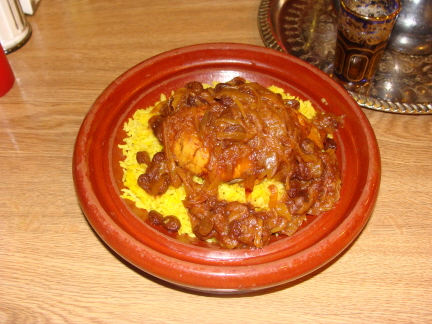 Chicken tagine
Still not having exhausted the tagine choices, I ordered Chicken Tagine on a subsequent visit. This was another good choice, with a flavorful dark meat and the same sweet and complex sauce served on the other tagine dishes. The only thing is that the chicken comes on the bone so it can be somewhat messy to eat (while the fish was served as a fillet).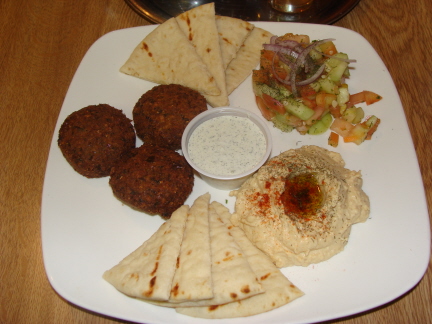 Vegetarian combo with falafel, hummus, and Moroccan salad
Cous Cous offers a few dishes that I think originated in countries other than Morocco, and which are served in most Middle Eastern and Mediterranean restaurants. Some examples are the various items available on the Vegetarian Combo plates, which include a choice of three items and pita.
The Falafel was one of the best I have tried in the city, with a very good flavor and texture (and an emphasis on freshness).
The Hummus was very good with quite a bit of olive oil, and I thought was of equal quality as several other very good ones in the city.
The Moroccan Salad was small but fresh and flavorful.
Even though Pita has now replaced the very good French bread that used to be served with meals, I cannot complain about the pita at all and I found it to be fresh with a good flavor.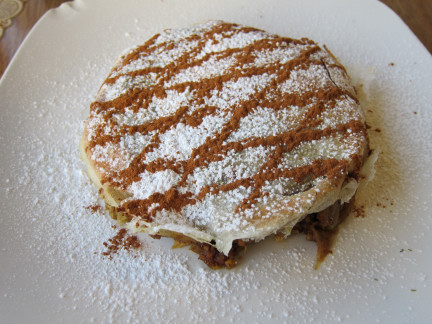 Chicken bastilla (frrom the specials board).
Chicken Bastilla was a dish listed with the specials that as yet I have seen only one time. In fact, I almost missed it because I did not know what it was (and the specials board does not give a description of the dishes). It turned out to be chicken served in a very good phillo dough with enough cinnamon and sugar on top to almost make this a dessert (it was sort of like a chicken pot pie made sweet). What I have learned is that whenever possible it is good to order from the specials board, because they are not only very good but also I don't know when I will be able to order them again (but usually there is something else available that is just as good).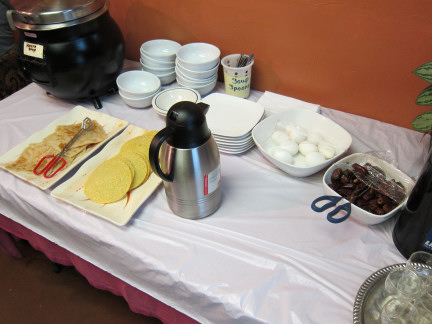 Special Ramadan buffet served at sunset
Something definitely considered a special is the buffet served at sundown during Ramadan, the Muslim holy month that takes place during summer. In fact, the chicken bastilla was also served during the Ramadan menu, and I think this is a dish traditionally served all year but at Cous Cous they seem to have a larger menu of traditional dishes during the Ramadan celebration.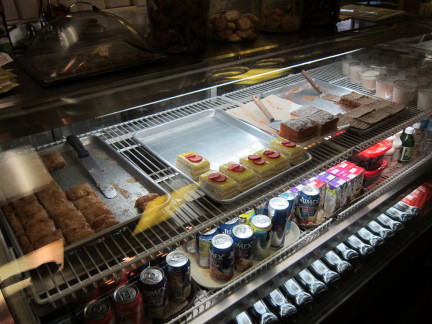 Food counter with desserts and other treats
Dessert items are many times too tempting to pass up, and all are freshly baked from the kitchen. I usually go to the counter where the cash register is located to pick out a dessert or something to take home. Baklava is always available, but other items seem to served be on a rotating basis (and there is a greater variety of items each time I go).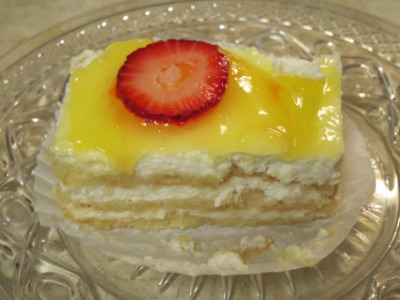 Home made lemon cake
One items that is not to be overlooked is the Lemon Cake which is made in house, and which the owners say (and I agree) is one of the restaurant's specialties. One reason I usually like desserts made with recipes from other countries is that they are not as sweet as many American desserts, but this one still had enough sweetness to offset the tartness of the lemon, and provided very vibrant contrasting flavors.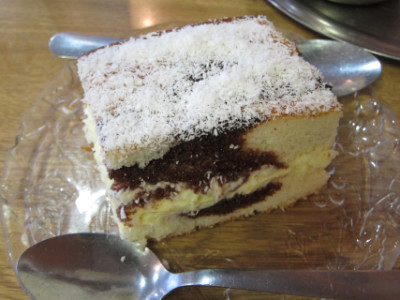 Coconut cake
So far I have given five stars to all of the desserts I have tried. The selection of desserts here does not compare to places such as La Baguette or Ingrid's, but I think in terms of freshness and quality Cous Cous Cafe is quite comparable.
Even though everything I have tried has been good, the tagine plates seem to be the signature dishes of the restaurant. These are listed as "specials" every day on the board, and I think it is a good strategy to base the daily offerings on the freshest ingredients that can be obtained from local markets (and menu items seem to be consistently fresh as well).
The friendliness of the staff, comfortable decor, and reasonable prices for good quality food are additional reasons I can recommend Cous Cous Cafe. Even though Cous Cous is small it does not have some of the limitations I find in many small ethnic restaurants such as closing early, not being open seven days a week, or frequently running out of special items.
To me the quality of the food gives me little wonder that they could stay busy for three years without even erecting a sign in front. Now that there is a sign, though, it should be easier for people to find.
My Comments in a Nutshell
What I like most:
The tagines here are really one of my favorite dishes available in Oklahoma City.
The Middle Eastern style hot tea is the best I have had in OKC.
The desserts are rapidly becoming an integral part of any meal here (they all appear to be made in house).
Disappointments:
Some of the items available when the restaurant first opened are no longer served (such as the cobia tagine and the complimentary loaf of French bread).
Things to know:
This is a Moroccan restaurant, but they serve Middle Eastern food from other countries (such as the falafel). The Moroccan dishes are written on a blackboard daily, and always include several types of tagines. Most tagines include meat, vegetables, and rice, and are more than sufficient food for a meal.
Many items on the menu are less expensive than the tagines and are designed for lunch when people have less of an appetite and are on a limited time schedule (these dishes are also available at dinner).
I have found the restaurant to be open every day I have gone, including holidays. They sometimes have specials which seem to correspond to Muslim holidays (but the restaurant does not appear to close because of these holidays).
RESTAURANT DETAILS
RATING: 25
Cuisine: Moroccan
Cost: $$
Hours: Open Daily
Accessible: Yes
Smoking: No Smoking
Alcohol: No
Special Features: Halal Food, Open Every Day (Including Holidays)
Most Recent Visit
Jun. 22, 2014
Number of Visits: 9
Best Items
Lamb, Cobia Tagine, Chicken Tagine, Vegetable Tagine, Falafel, Desserts, Moroccan Tea
Special Ratings
Lamb:


Chicken Tagine:


Vegetable Tagine:


Falafel:


Hummus:


Moroccan Salad:


Lemon Cake:


Thousand Layer Cake:


Coconut Marble Cake:


Pita:


Moroccan Tea:

Discontinued or Seldom Offered
Cobia Tagine:


Chicken Bastilla:

Restaurant Web Site
Cous Cous Cafe
MORE ABOUT THIS WEB SITE