okgourmet.com&nbsp &nbsp Home of Steve's Restaurant Reviews
SUPPLEMENTAL ARTICLES
Relating to Oklahoma Restaurants
Home &nbsp > &nbsp Special Features &nbsp > &nbsp Articles &nbsp > &nbsp Oklahoma Articles
OKLAHOMA CITY, OK--Ann's Chicken Fry House
Aug. 14, 2012: High Expectations for Ann's Chicken Fry House.

When I see negative reviews on Urbanspoon and other sites it is frequently because a restaurant did not live up to the expectations readers had from reading previous reviews, or it did not "live up to the hype." Many times when a restaurant is rated as a "dislike" I do not believe it is actually bad, only that the diner was expecting more.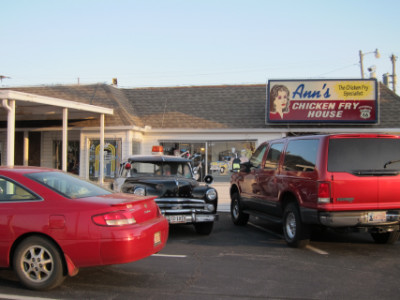 Ann's Chicken Fry House in Oklahoma City
With Ann's Chicken Fry House my experience has been somewhat like the readers with negative reactions on other sites. However, I do not rate it as a "dislike" (although I don't know how I would do that since I use a numerical rating system, and there is almost always something I like about the restaurants I visit). Instead, I just think the chicken fried steak is disappointing compared to Austin and other parts of Texas. I know that not everything is better in Texas, but I do think it sets the standard when it comes to chicken fried steak.
A recently posted review of Lulu's Bakery and Cafe in San Antonio on the Food Goblin blog gave the following description of the chicken fried steak at the restaurant:
The meat was so tender that you could cut it with just a butter knife and the outer coating was superbly crispy, multi-layered and mildly spiced. A great contrasting texture to the soft, soft, meaty beef. I was not wrong about the cream gravy. It was slimy, claggy and tasted of nothing. Its one purpose was seemingly to make all of the chicken fried steak's fantastic crispy batter soggy. Mildly upsetting. I should have asked for it on the side - a rooky mistake.
This review of Lulu's largely mirrors my own experience with chicken fried steak in Texas, and unfortunately I really cannot say the same about Ann's (especially about the steak being soft and meaty). The breading at Ann's is probably close to the Texas version (but I would probably give it about four stars out of five). I do like the gravy at Ann's and I would not normally put it on the side. I suspect the comment about the gravy at Lulu's was more a matter of opinion than because the gravy was that much different in Texas than Oklahoma.
The fried chicken is what I consider to be the best dish at Ann's, and in fact it is probably the best I have had in Oklahoma City (other than at Eischen's which is about 20 miles outside of Oklahoma City or Sleepy Hollow which is no longer open). However, the chicken is only served Friday and Saturday. The biscuits and coconut pie are also extremely good, and of course the chicken fried steak is what has put Ann's on many lists of places to eat while visiting OKC (and there are enough good features about the CFS that I would also say that Ann's should be on these lists). The quality of the chicken fried steak has varied somewhat on different visits, though, and this is the reason for my caution.
MOST RECENT ARTICLES
are listed on the web site's home page: