okgourmet.com&nbsp &nbsp Home of Steve's Restaurant Reviews
Ann's Chicken Fry House
4106 N.W. 39th St.
Oklahoma City, OK
(405) 943-8915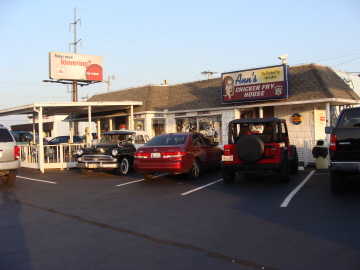 Historic U.S. Highway 66 went through its own evolution before being made obsolete by Interstate highways, with the original circuitous two-lane route being replaced by the then modern 6 lane highway known as N.W. 39th St. Expressway. It may be hard to find the original route without an old map, but the expressway built through Oklahoma City lives on in Route 66 style buildings, signs, and memorabilia.
One restaurant that takes advantage of the theme is Ann's Chicken Fry House, a rather small but popular place that has been operating in the same location since 1971. The restaurant is not quite as old as the vintage 1950's police car parked in front and the other memorabilia in the restaurant that remind customers of the days of Route 66, but to me it seems as if Ann's has always been there. Many other restaurants have come and gone along 39th Street over the years, but Ann's always seems to serve a landmark for the area.
I know Oklahoma is famous for chicken fried steak, but somehow I always thought this was something you did not order at restaurants when it could be cooked at home. That feeling changed, however, when I experienced chicken fried steak glory at two or three restaurants when I lived in Austin, Texas. The chicken fried steak tradition is just as strong in Oklahoma as in Texas, and Ann's is probably the most popular place in Oklahoma City that specializes in this dish. It is no wonder that Ann's is always on the short list of restaurants that are recommended to tourists and frequented by locals.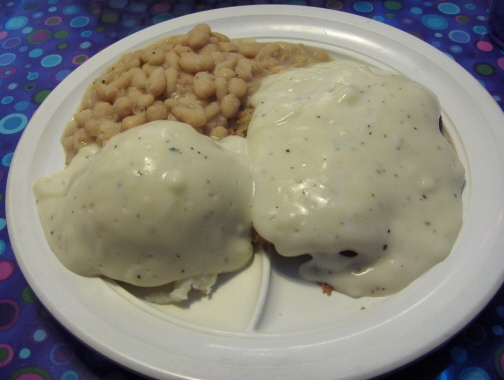 Small order of chicken fried steak with mashed potatoes at Ann's
The main attraction at Ann's, of course, is the Chicken Fried Steak. This is a breaded cube steak covered with a milk gravy that is so thick that only the faint outline of the steak can be seen underneath. Ann's uses the classic cooking method of using gravy that is not too thin, using white gravy instead of brown, and having a thick and crispy breading (but not so thick that it covers up the taste of the meat).
The steaks come in two sizes, small (shown in the picture), or a large one that I believe is actually two steaks served on the plate. I thought the small serving was plenty, and was in keeping with the size of dinners I used to get in Austin.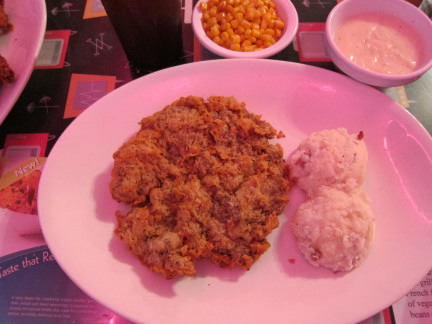 For those who are wondering, this is what the chicken fried steak and mashed potatoes look like with the gravy on the side
Although the chicken fried steak at Ann's is very good, I do not believe it gives the same kind of experience I had in Austin. The meat seems a little thinner and less flavorful, and the flavor of the breading is not quite as good. I do not want to discourage anyone from going to Ann's because I thought the experience was better 400 miles to the south, but this is just my opinion.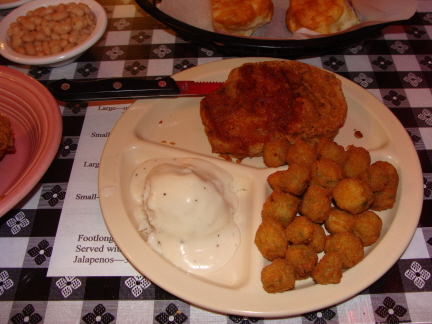 Pork chop served Thursday through Saturday
Some other dinners, sandwiches, and burgers are also available at Ann's. Some, such as the Pork Chop, are available only on certain days (the pork chop is available Thursday through Saturday). I will have to say that we ordered the pork chop more out of curiosity than expecting it to be as good as the chicken fried steak, and I certainly did not think it was quite as memorable as the chicken fried steak, but it still qualified as a good experience.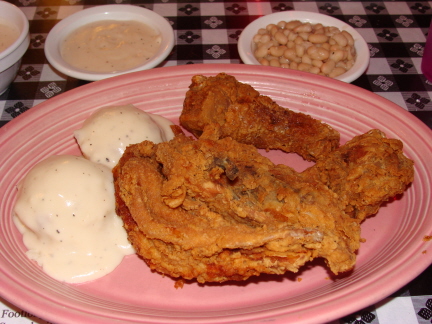 Fried chicken served only as a special on Friday and Saturday
Fried Chicken is available on weekends, as one of Ann's daily specials (I think the only one I have not yet mentioned is meat loaf served on Wednesday). I had an inkling the chicken might be good, but I was a little surprised when it turned out to be as good or better than the chicken fried steak (and I would say it is actually better). This had a perfect golden crust, and although the pieces of chicken were rather large (and thus in my opinion not as flavorful as smaller chickens), I really was quite satisfied with the meal. The chicken was moist and cooked perfectly. The only problem I can think of is that they cook a limited quantity so it is best to go early.
Ann's only serves a half chicken to an order, so for me this would involve sharing the plate or taking some of it home. Of course this is probably not a bad thing except that the places that serve smaller portions also tend to be a lot less expensive.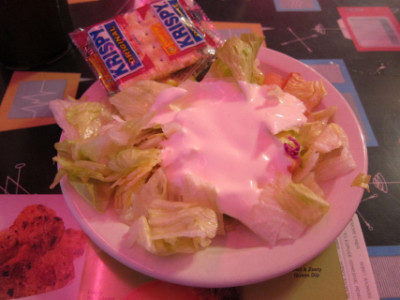 Salad with house dressing
I was not very impressed with the salad, but the house garlic ranch dressing was very good.
A choice of vegetables comes with each dinner, and I enjoyed the Navy Beans that came with my order. I would guess that these were not vegetarian, especially since they tasted so good.
Mashed Potatoes came with the dinner and tasted a little dry. The gravy was really the best part of the potatoes.
The Green Beans were certainly above average for ones I have had in restaurants.
The Biscuits were excellent, and the restaurant provides a bottle of honey on each table that makes the biscuit experience complete. I found out the hard way, though, that they sometimes run out of biscuits and rolls so that customers have to settle for Texas toast (which really does not go as well with the honey).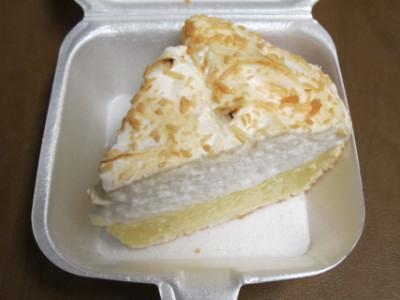 Coconut pie
The Coconut Pie was really better than expected, considering that usually anything other than the meat items is not considered to be Ann's specialty. The coconut pie, though, seemed to have a perfect flavor and texture, and is definitely one of the restaurant's best items. Other desserts are also available, but I usually do not try them because I find biscuits and honey to be quite sufficient.
I have heard that Ann's is the best place in Oklahoma City for chicken fried steak. To be fair, I have also heard that other restaurants have the best chicken fried steak (particularly Cattlemen's). My opinion about Ann's is that although the chicken fried steak is good, the best item is the fried chicken (a dish that is only served on Friday and Saturday). Even separating the steak into its component parts I do not believe the gravy is the best in town, although the breading does seem to be better than others I have tried (and the steak has varied in quality the times I have tried it).
I really like Ann's as much for the atmosphere as for the food. As much as Route 66 played an important part in my childhood, it is good to have the bit of nostalgia that Ann's provides, as well as some pretty good comfort food to go along with it.
RESTAURANT DETAILS
RATING: 20
Cuisine: American
Cost: $$
Accessible: Yes
Smoking: No Smoking
Special Features: Lunch specials, senior specials, children's menu
Most Recent Visit
Aug. 4, 2012
Number of Visits: 3
Best Items
Fried Chicken, Navy Beans, Green Beans, Biscuits, Chicken Fried Steak, Coconut Pie
Special Ratings
Chicken Fried Steak:


Fried Chicken:


Pork Chops:


Salad:


Navy Beans:


Green Beans:


Biscuits:


Coconut Pie:

MORE ABOUT THIS WEB SITE