okgourmet.com&nbsp &nbsp Home of Steve's Restaurant Reviews
SUPPLEMENTAL ARTICLES
Relating to Oklahoma Restaurants
Home &nbsp > &nbsp Special Features &nbsp > &nbsp Articles &nbsp > &nbsp Oklahoma Articles
OKLAHOMA CITY, OK--Evelyn's Asian Table
Aug. 3, 2012: Evelyn's Asian Table is the new restaurant at N.W. 122nd and MacArthur that took over the space where Golden Dragon used to be. Evelyn's specializes in Filipino food, which used to be served at Clay Pot (N.W. 36th & May), but now Evelyn and her husband have their own restaurant. The menu is quite extensive, and also includes quite a few Chinese and Thai dishes (along with some Malaysian and Korean items).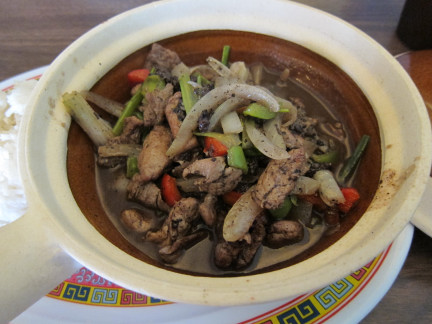 Pork Dinuguan, my favorite dish so far at Evelyn's
Evelyn's continues to use Golden Dragon's phone number, and I think the restaurant's main concern right now is for people to be able to find them. It seems, though, that the word has already largely gotten out that Evelyn has her own place and serves the same food that used to be available at Clay Pot. The "Golden Dragon" name on the building is also to let the Chinese restaurant's former customers know that they can still come for a Chinese lunch buffet and enjoy other dishes that were served at the restaurant.
I am sorry that the Shanghai style food prepared by special request by Golden Dragon's former owners is no longer available, but I think the Filipino food now served is a worthy replacement (and seems to be equally authentic and delicious).
MOST RECENT ARTICLES
are listed on the web site's home page: