okgourmet.com&nbsp &nbsp Home of Steve's Restaurant Reviews
Evelyn's Asian Table (Closed)
5934 N.W. 122nd St.
Oklahoma City, OK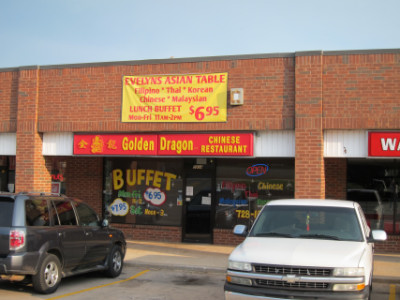 Note: Evelyn's Asian Table had its start at the Clay Pot at N.W. 36th and May. In April 2012 Evelyn's opened its own restaurant at this location, taking over the former Golden Dragon Restaurant. In October 2012 Evelyn's closed, and the owners say they are looking for a new location (and plan to reopen at a later date).
Until April 2012 Evelyn's Asian Table operated out of Clay Pot at 2903 N.W. 36th St., but now has its own location at the former Golden Dragon Restaurant at N.W. 122nd St. and MacArthur. I never tried the food while it was at Clay Pot, but I understand that Evelyn prepared the Filipino side of the menu, while the other chefs made the Thai food.
The new location of Evelyn's will probably continue to be listed as Golden Dragon in the phone book, and it has Golden Dragon's old phone number. Evelyn's Asian Table is the name printed on the menu, and this is actually the name of the restaurant. Former customers of Golden Dragon, though, still have a Chinese lunch buffet and some of the former menu items that were served at Golden Dragon. Casual observation indicates that Evelyn's draws new customers, former customers of Golden Dragon, and customers who enjoyed their food when it was located at the Clay Pot.
The sign on the front of Evelyn's indicates that there is a great variety of Asian cuisine, such as Chinese, Thai, Korean, and Malaysian. Filipino food, though, is the restaurant's specialty, and the variety of dishes is greater than I have seen anywhere else (in my limited experience with Filipino restaurants). There is an even greater variety of Chinese food, but this may be a carryover from the former menu at Golden Dragon. The Korean food really consists of one dish (Korean barbecue) and the Malaysian menu includes five dishes (two of which are soups). While it is good to have all of these choices, the Filipino cuisine is really what I think is the best, and in addition I do not think there are very many Filipino restaurants in the U.S. that offer the kind of variety that is found here.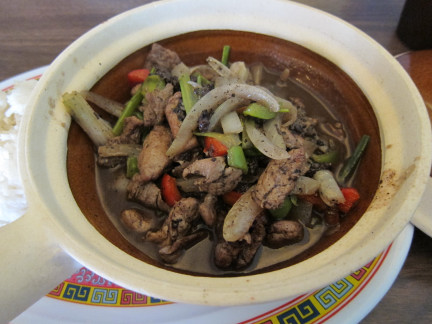 Pork Dinuguan
So far the Pork Dinuguan has been my favorite dish at Evelyn's, and I think it is about equal in quality to the best dish I had at Bhing's, a Filipino restaurant at N. MacArthur and 42nd St. that closed in 2011. The sauce in this dish was especially flavorful, and everything else about it was enjoyable as well. It had a good variety of vegetables including red peppers and onions, but it was not spicy (as some Asian dishes can be). The meat was good, and I can understand why this is supposedly one of the more popular dishes at the restaurant. Although many dishes have a choice of meats, this one only comes with pork, and I suppose this is the traditional way it is prepared (and I was very happy with the way it was prepared).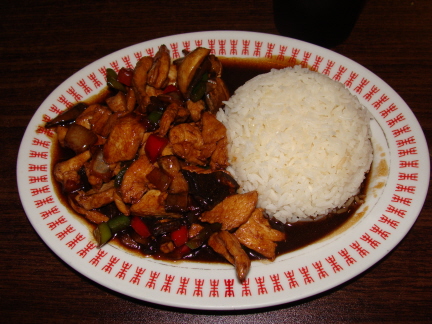 Ginger chicken
Ginger Chicken can come in so many styles I was not sure what to expect, but this one had a delicious dark sauce that was similar to the one used in the Pork Dinuguan. I thought it was a little sweeter than the Pork Dinuguan, and it seemed to have less vegetables. However, I really know very little about Filipino cooking so I am unable to describe what is actually in each of the dishes (but I know when something tastes good, as the ginger chicken did).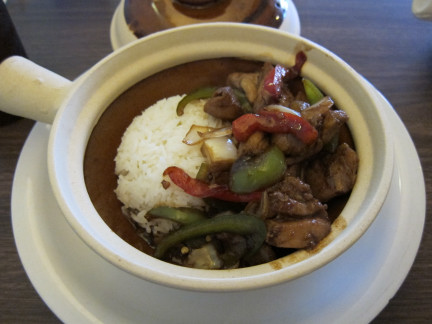 Adobo chicken
The Adobo Chicken followed the pattern of other dishes by having a very flavorful sauce, and I liked the vegetables. It comes in a clay pot with a choice of fried or steamed rice, and the meats can be either chicken, pork, or pusit.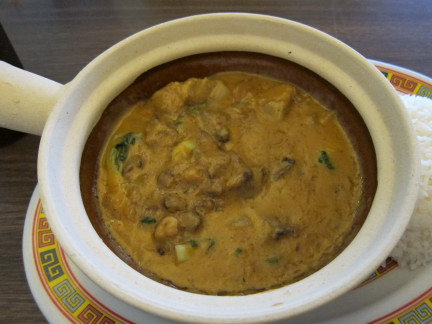 Kare kare chicken
Kare Kare Chicken was a clay pot chicken dish with peanut sauce, but compared to Thai style peanut sauce this was much thicker. In fact, it was so thick it almost reminded me of eating peanut butter. Apparently a lot of people really enjoy this dish but I was not thrilled with it.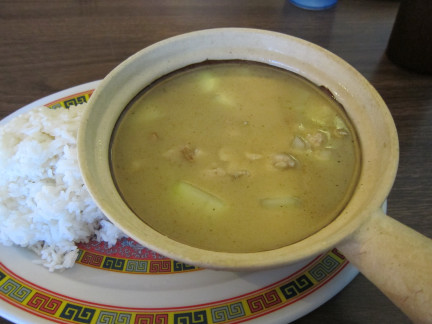 Chicken Tinola
Chicken Tinola was a dish I tried at Bhing's Café, so it was interesting to see how it compared with the one here. This is a soup, but Bhing's had a clear broth while the one at Evelyn's was thick almost to the point of being a stew (I did eat it with a spoon, though). I found the one at Evelyn's to have a more flavorful broth than the one at Bhing's, but other than chicken and papaya there were not a lot of ingredients in the broth (and I thought Bhing's was better). I am prepared to say that both were good, but very different. I do not know if one was more authentic than the other.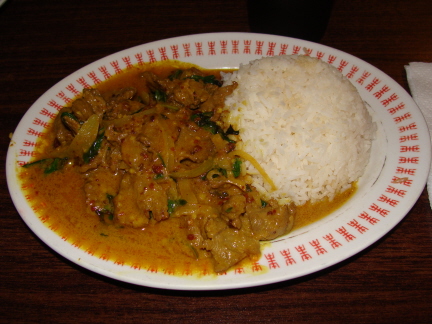 Panang beef
Panang Beef was the first dish I tried that did not come from the Filipino menu, and although it was listed with the Chinese dishes I think it is really more commonly found in Thailand. Taste being more important than the dish's classification, though, I was pleased to find that it was rich and flavorful. It probably did not have as much coconut milk as other Panang curries I have tried, and it was not spicy (but this was at the request of my dining partner who ordered it). I would say that this was a pretty good Thai dish, and the curry was not overwhelmingly sweet as I many times find in restaurants.
The Panang Pork had an equally good curry, but the meat was a little tougher (and therefore I would go with the beef). Overall it was a good dish.
This is probably also a good time to point out that the Jasmine Steamed Rice is excellent, and is one of my favorite parts of the meal here (a choice of steamed or fried rice comes with just about every dish served).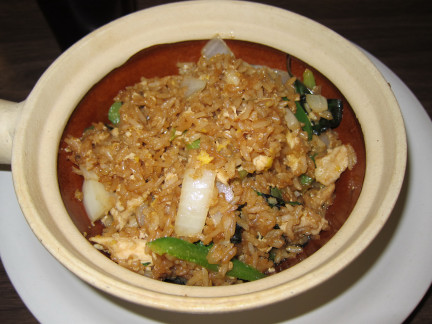 Basil fried rice
Basil Fried Rice is a dish I would normally classify as being Thai, but on the menu at Evelyn's it was simply listed on the fist page which included appetizers, soup, noodles, and fried rice. The rice was very flavorful and well prepared, and had enough chicken to serve as a main course (it comes with a choice of meat). It did not rise to the point that I would call it one of the best dishes at Evelyn's, but that is really a high bar to reach since most of the dishes are ones that I would rate as five stars.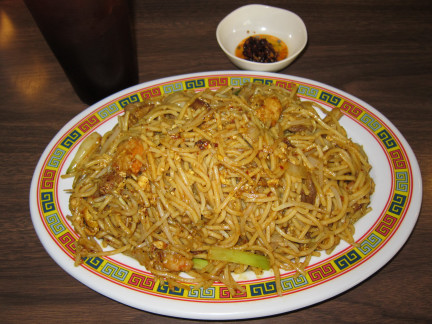 Mee goreng
Mee Goreng is one of the five Malaysian dishes on the menu, and was one of the few dishes I tried that was spicy. Mee goreng is something I have ordered in several Malaysian and southeast Asian restaurants around the country, so I have some basis of comparison. The one here came with beef, chicken, and shrimp, and had such a substantial amount of noodles that I had to take much of it home as leftovers. The sauce was good, but I did not think it was the best one I had ever tried (this dish uses a shrimp paste). Unfortunately, the main feature I thought was lacking was the quantity and variety of vegetables that I have experienced with the dish at other restaurants. One good example was the one at Seri Melaka in Tucson (now called Neo Malaysian Kitchen), which had a much higher ratio of vegetables to noodles than the one at Evelyn's. Evelyn's has an enjoyable version of the dish, but I thought it could have used more vegetables.
Chinese food is prominent on the menu, and is the main part of the lunch buffet (except on Saturday when Evelyn's serves an all Filipino lunch buffet). The owner of Golden Dragon told me before he left that he was passing on all the former recipes to Evelyn's for those who wished to order the same dishes as before.
I do not think I ever ordered the Hunan Chicken at Golden Dragon, but the one at Evelyn's was good. The main down side to it (the reason I gave it four stars instead of five) was the flavor that I thought did not reach the point of being light and delicate as is the norm with authentic Chinese food. The ingredients of the Hunan chicken were good, though, and I thought it was at least as good as the mee goreng (in other words, something that I would order again).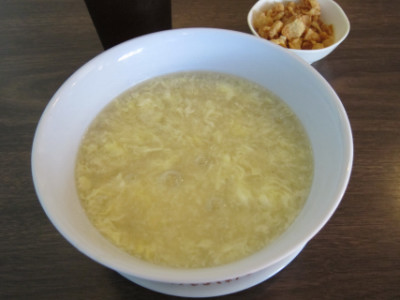 Egg drop soup
The Egg Drop Soup, though, was too salty for my taste. Because I know that there are hits such as the Hunan chicken and misses such as this dish, I would say the best bet is to try the lunch buffet where several items can be sampled (also the buffet includes several Filipino items, which are clearly the specialty of the restaurant).
Evelyn's Saturday buffet is all Filipino, and currently costs a dollar more than the Monday-Friday buffet.
Evelyn's does not use MSG, and this is one reason I am willing to sample almost everything at least once (knowing that I will not get a headache or other side effects from the food as I sometimes do with Asian food).
Filipino cuisine is new to many Americans, as it largely is to me, but I am very glad to have this option in my restaurant choices. With new cuisines, though, I do not recommend them because they are different, but because they are good. So far Evelyn's has been one of the better ones I have tried.
RESTAURANT DETAILS
RATING: 23
Cuisine: Filipino
Cost: $$
Hours: Closed Sun.
Accessible: No Handicapped Parking
MSG: No
Smoking: No Smoking
Special Features: Lunch buffet Mon-Fri; All Filipino lunch buffet Sat.
Most Recent Visit
Aug. 22, 2012
Number of Visits: 6
Best Items
Pork Dinuguan, Pancit Canton
Special Ratings
Pork Dinuguan:


Ginger Chicken:


Chicken Tinola:


Pancit Canton:


Adobo Chicken:


Kare Kare Chicken:


Panang Beef:


Panang Pork:


Basil Fried Rice:


Mee Goreng:


Hunan Chicken:


Pineapple Chicken:


Egg Drop Soup:

MORE ABOUT THIS WEB SITE