okgourmet.com&nbsp &nbsp Home of Steve's Restaurant Reviews
SUPPLEMENTAL ARTICLES
Relating to Oklahoma Restaurants
Home &nbsp > &nbsp Special Features &nbsp > &nbsp Articles &nbsp > &nbsp Oklahoma Articles
OKLAHOMA CITY, OK--Oklahoma Station Barbecue
Jul. 22, 2012: Oklahoma Station is probably the best place in Oklahoma City for brisket, and I love the cafeteria line where I can go through and pick out two side dishes that come with a dinner (and the selection of side dishes almost reminds me of a cafeteria). The ribs and pork tenderloin are also excellent meat choices, and the turkey is better than most.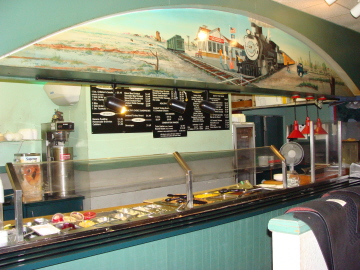 Pick up your barbecue, sides, and desserts at the serving line
On my latest visit I tried the pulled pork, but I did not think this was one of the better versions I have tried.
Oklahoma Station may have the best cole slaw I have tried in an OKC barbecue restaurant (especially the sweet version).
One of my favorite features of Oklahoma Station is the banana pudding which can either be included as one of the two side dishes on a dinner or ordered separately as a dessert (but of course we all know that anything with bananas makes a nutritious side dish).
MOST RECENT ARTICLES
are listed on the web site's home page: