okgourmet.com&nbsp &nbsp Home of Steve's Restaurant Reviews
SUPPLEMENTAL ARTICLES
General Topics
Home &nbsp > &nbsp Special Features &nbsp > &nbsp Articles
Homemade Food for Dogs
Jun. 29, 2013: It stands to reason that a gourmet cook for people would also be interested in gourmet food for dogs. Such is the case with Bill Bonadio, whose restaurant Papa Dio's in The Village (a suburb of Oklahoma City) is one of the hot spots if you want very high quality restaurant food.

Chef Bonadio makes periodic appearances on KSBI-TV's "Dog Talk" program, cooking up some nutritious (and I assume tasty) treats for dogs, explaining that "dogs are people too" (and of course I am in agreement). His recipes can be cooked at home and give dogs a nutritious meal (I also place a high value on the nutrition of the food I write about on this web site).

On a recent show Chef Bill demonstrated how to make salmon cakes, something that as people food is high on my list of favorites. Chef Bill's homemade dog food recipes have ingredients that are common in households and that could be eaten by humans, but of course the flavor is tweaked for maximum enjoyment by dogs.

The following are the ingredients used, but of course it is best to watch the video posted on KSBI's web site:
Poached salmon (without wine)
Bread crumbs
Red peppers
Roll into balls--bake in oven
For people, add salt and garlic for flavor
At one time there was a complete recipe posted on KSBI's web site for beef stew from one of Bill's previous shows, but it has now been removed. I did take some notes from the show, though, and these are some of the ingredients used:
Sirloin beef trimmings (low fat)
Brown rice (can cook ahead of time)
Carrots
Celery
Stock--low sodium (no salt)
Rosemary for flavor
I hope at some time these recipes can be published, but I imagine that some very creative people can come up with their own recipes. The point is just to try to give dogs the nutrition they need (and I am sure they will enjoy the flavor as well).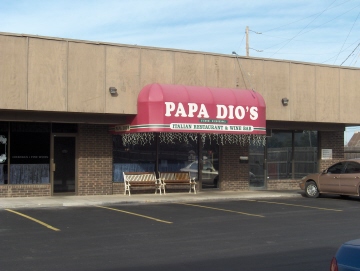 Papa Dio's Italian Restaurant and Wine Bar
For the side of the family who enjoy going to restaurants, it is hard to do any better than Bill Bonadio's Papa Dio's Restaurant, an Oklahoma City institution. I enjoyed another excellent meal there recently, and I like to have reminders about it from time to time on my web site.
MOST RECENT ARTICLES
are listed on the web site's home page:
RESTAURANT REVIEWS
can be accessed from the web site's main index: