okgourmet.com&nbsp &nbsp Home of Steve's Restaurant Reviews
Custino's Italian Kitchen (Closed)
2724 W. Britton Rd.
Oklahoma City, OK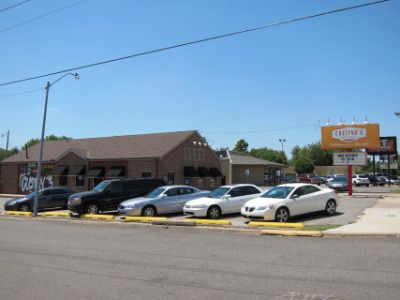 The saga of Custino's opening in 2012 is rather well known, and several web sites have discussions about the rocky events that led to the departure of the Custinos from the restaurant and the ultimate settling down to "normalcy." Actually on my first visit to the restaurant in May 2012 it was obvious they had some kinks to work out, but overall the restaurant experience did not seem very far out of the normal.
The most obvious problem on my visit was that they were out of almost everything on the menu. The owner apologized and said we could order the sandwiches, but I really went there to try the pizza (they were out of pizza and could not take any more orders even though pizzas that people had ordered previously were still being brought to different tables). It turned out later that pizza was dropped from the menu, and one of the problems at the beginning was that they were trying to serve too many items (this is a common problem with small restaurants).
All of this is a prelude to saying that I really enjoyed the sandwiches, and despite any problems with the menu or the service it seemed that anything ordered from Custino's would turn out to be worthwhile. I don't know yet what are the best dishes, and I do not have a large sample upon which to give a rating to the restaurant, but I know for sure that the food is quite good. It is also different in a good way by giving a simple, natural taste to the food that is not covered up with a lot of spices. Some people might interpret Custino's as not having as much flavor as other Italian restaurants, but I thought it had a better flavor than most restaurants.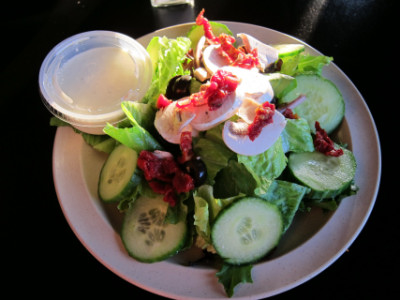 Custino's salad
The Salad was much like the ones at many Italian restaurants in that the dressing was the best feature, and the lettuce was not special but it was fresh.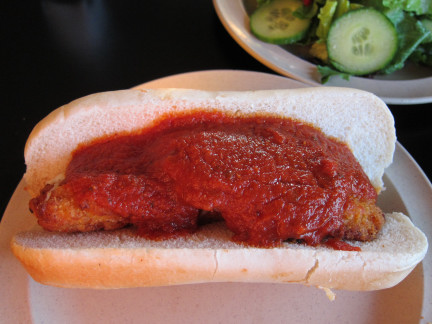 Chicken parmesan sandwich
From the choices of sandwiches available the Chicken Parmesan Sandwich sounded the best, and it turned out to be quite good. In fact, I would call it unexpectedly good. Most restaurants serve good chicken, as Custino's did, so this was really not a surprise. The sauce, though, was very smooth, light, and flavorful. I can understand that some people might think the sauce was bland if served on a regular chicken parmesan dish because it did not have a lot of spices added, but I thought it was just right on the sandwich. Also I will have more impressions about it if I go back to order it a second time. On this particular meal, though, I thought it was not only good, but notably good compared to other Italian restaurants.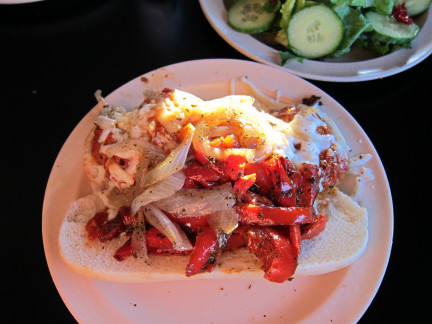 Meatball sandwich
The Meatball Sandwich, though, was the real surprise to me. First of all it is not something that would be on my radar screen to order, and I only sampled a couple of bites of this one. It turned out that the meatball itself was the best I had tried in Oklahoma City, although I might need more samples to know for sure whether this one or Vito's was the best. I am not a big meatball eater, but I tried some at other restaurants that receive some acclaim shortly after eating at Custino's, and I kept going back to Custino's as the one that sets the standard. This was really one of the best meatballs that I think you can get anywhere.
The sandwich looks rather funny in the photo because it is covered with a lot of toppings, but my opinion was that the meatballs were substantial, they were very good, and the toppings were enjoyable as well. It was just a sandwich, and not really fancy Italian food, but it was a very good sandwich.
The weakness of Custino's seems to be not being able to sit down for a fancy meal with side dishes, soups, and memorable salads, although I don't know what kind of upgrades they have made since my visit. For what it is, though-- plain, basic Italian food-- it is quite good, and in fact I think it is a better choice than many of the fancier places.
RESTAURANT DETAILS
RATING: 23
Cuisine: Italian
Cost: $$
Accessible: Yes
Smoking: No Smoking
Most Recent Visit
May 31, 2012
Number of Visits: 1
Best Items
Meatball Sandwich, Chicken Parmesan Sandwich
Special Ratings
Meatball Sandwich:


Chicken Parmesan Sandwich:


Salad:

MORE ABOUT THIS WEB SITE