okgourmet.com&nbsp &nbsp Home of Steve's Restaurant Reviews
SUPPLEMENTAL ARTICLES
Relating to Oklahoma Restaurants
Home &nbsp > &nbsp Special Features &nbsp > &nbsp Articles &nbsp > &nbsp Oklahoma Articles
OKLAHOMA CITY, OK--Caffe Pranzo
Oct. 18, 2013: A recent visit to Caffe Pranzo convinced me that it has numerous similarities to Moni's Pasta & Pizza, and that it would be a good idea to write back-to-back articles about these two restaurants. Caffe Pranzo has been in The Village, a suburb of Oklahoma City, for a number of years. Moni's is about five miles north of Caffe Pranzo on May Avenue, and recently expanded from the original restaurant in Arlington, Texas. The food seems to be similar at the two restaurants, and both are "neighborhood Italian restaurants" (I suppose in contrast to restaurants which are more expensive and concentrate as much on the atmosphere as the food).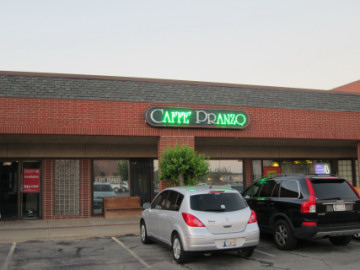 Caffe Pranzo in The Village
One thing I have found that Caffe Pranzo has in common with Moni's is that my favorite dish so far has been a pasta dish. At Caffe Pranzo it was the linguini alla marinara, while at Moni's it was the spaghetti.
Both restaurants have very good salads, but at Caffe Pranzo I would rate it as excellent (although the dressing is of equal outstanding flavor at both restaurants).
Pizza is a specialty at both restaurants, and I have many times found the pizza at Caffe Pranzo to be among my favorites in Oklahoma City.
Caffe Pranzo may not be among the most fancy and high priced Italian restaurants, but to me it is one of the most enjoyable for the relaxed atmosphere, good food, and good service. Both Moni's and Caffe Pranzo show that you do not always have to pay the highest prices to get some of the best food.
MOST RECENT ARTICLES
are listed on the web site's home page: