okgourmet.com&nbsp &nbsp Home of Steve's Restaurant Reviews
SUPPLEMENTAL ARTICLES
Relating to Oklahoma Restaurants
Home &nbsp > &nbsp Special Features &nbsp > &nbsp Articles &nbsp > &nbsp Oklahoma Articles
OKLAHOMA CITY, OK--Lotus Mandarin
Aug. 27, 2013: Lotus Mandarin in Warr Acres has recently had a change in ownership, and a lot of changes have been made to the restaurant. What has not changed is the fact that they have a lunch buffet, and many of the menu items are the same as before.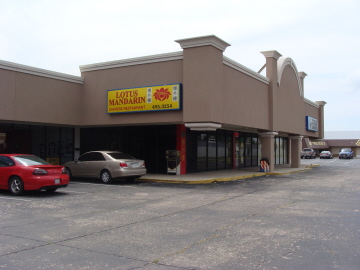 Lotus Mandarin in Warr Acres
The menu selections have been scaled down, though, and Lotus Mandarin no longer offers some of the dishes I used to order. Also they no longer serve smaller portions (I used to order these for lunch, but I think they were available for dinner also). I thought the food had a different flavor than before, but this is harder to describe definitively than the obvious changes I noticed with the menu.
I think I first started going to Lotus Mandarin about 1982, and I have enjoyed it through about three or four different owners since that time. The big attraction for most customers has been the buffet, although when I first started going in the 1980's I remember seeing a rather extensive lunch menu in place of a buffet. I tried the buffet a few times after it became a feature at the restaurant, but I kept going to Lotus Mandarin for the same lunch and dinner items that have been on the menu since the beginning.
The current owners have changed the menu, and I am not sure how attractive the restaurant will be going forward from here. I mainly went for the more "Chinese style" dishes, which are now mostly gone. My review gives a few more details, but in case anyone is interested I have made an archived copy of the "old" Lotus Mandarin review along with a copy of the old menu.
Although I concentrate on writing reviews, I am also trying to provide historical information about restaurants. Lotus Mandarin certainly seems to qualify as one of the city's more historic Chinese restaurants.
MOST RECENT ARTICLES
are listed on the web site's home page: