okgourmet.com&nbsp &nbsp Home of Steve's Restaurant Reviews
SUPPLEMENTAL ARTICLES
Relating to Oklahoma Restaurants
Home &nbsp > &nbsp Special Features &nbsp > &nbsp Articles &nbsp > &nbsp Oklahoma Articles
OKLAHOMA CITY, OK--Pho Kim Long
Aug. 17, 2013: Pho Kim Long in the Asian District is one of many choices for Vietnamese food, but I think for pho (beef noodle soup) it is one of the better choices. In fact, I was surprised that this soup was not only very different from others, but I almost thought this was something other than pho. It seemed to be at a higher level than I had normally experienced with beef noodle soup, and I almost thought I had discovered a new Vietnamese dish (but in fact there is a wide variety of methods for preparing beef noodle soup).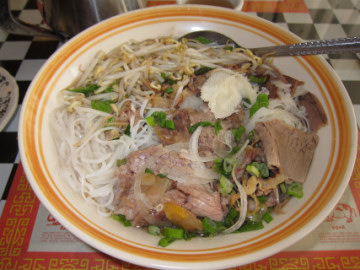 Beef noodle soup
The soup pictured was a take-out order brought to me by a friend, so the bowl and placemat shown are not from Pho Kim Long. The soup was from this restaurant, though, and it really had a depth of flavor that surprised me. The main thing that stood out was a star anise flavor, and although this is a standard ingredient for Vietnamese soup, Pho Kim Long seemed to bring out a flavor I had not experienced before. On top of that, the meat was also excellent, and in fact the whole thing was excellent. The bottom part was covered in broth, and although it was probably a smaller volume that I normally see in pho (the generic name for Vietnamese beef noodle soup), the flavor in the broth was enough to completely soak into the noodles and other ingredients.
There are a lot of pho restaurants in Oklahoma City, but Pho Kim Long offers a flavor and quality that I think offers a rather unique experience. I was really surprised at how much I enjoyed it.
MOST RECENT ARTICLES
are listed on the web site's home page: