okgourmet.com&nbsp &nbsp Home of Steve's Restaurant Reviews
SUPPLEMENTAL ARTICLES
Relating to Oklahoma Restaurants
Home &nbsp > &nbsp Special Features &nbsp > &nbsp Articles &nbsp > &nbsp Oklahoma Articles
New Mexican Cuisine in the Oklahoma City Metro
Aug. 7, 2013: Green Chile Kitchen in Yukon was a restaurant I had to try since my fondness of New Mexican cuisine was a large part of the inspiration for this web site. Yes, the food from New Mexico is noted as its own food category on national web sites such as Urbanspoon, holding a place equal to Tex-Mex, Cal-Mex, and Sonoran food in Arizona. All of these are regional types of Mexican food which developed in the United States, and New Mexico style cuisine may have the longest running tradition of any of them. It is certainly my favorite out of these Mexican food styles.

New Mexican cuisine revolves around green and red chile. Green chile is harvested beginning in mid to late summer, and right now is a perfect time to head to Yukon for a taste of their fresh chile imported from the Land of Enchantment. The red variety is good all year, and it is usually my favorite, but I prefer to order green chile around August and September.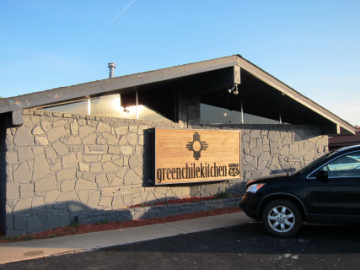 Green Chile Kitchen on Route 66 in Yukon
One thing I do not understand is why there are not more New Mexican style restaurants located outside the borders of New Mexico. There are two or three in the west part of El Paso, and I have eaten at ones in Pueblo, Colorado and Salt Lake City (there is also a well known New Mexico style restaurant in Phoenix). Green Chile Kitchen is the fourth one in the greater Oklahoma City area where I have been able to dine since about 1980, and hopefully it will last a lot longer than most of the others which seemed to be gone after about one or two years.
The crowd at the restaurant indicated to me that the local population is ready for this type of food. I think the obvious popularity of Green Chile Kitchen will allow them to add new things to the menu. The staff gave a strong indication that they plan to indroduce stuffed sopaipillas to the menu, and I definitely hope to sample them when that happens.
MOST RECENT ARTICLES
are listed on the web site's home page: