okgourmet.com&nbsp &nbsp Home of Steve's Restaurant Reviews
SUPPLEMENTAL ARTICLES
Relating to Oklahoma Restaurants
Home &nbsp > &nbsp Special Features &nbsp > &nbsp Articles &nbsp > &nbsp Oklahoma Articles
OKLAHOMA CITY, OK--Grand House China Bistro
Jun. 5, 2013: With all of the authentic Asian restaurants available in the vicinity of Classen Boulevard and N.W. 23rd Street (known as the Asian District), I have had little reason to go to Grand House China Bistro except when my friends or family wanted to go there. The operative phrase here, though, is "have had," because my opinion of it is slowly changing for the better. I have always liked Grand House, but I felt that there were better places to get authentic, or "traditional" Chinese food.

Grand House used to be the only place in town that served dim sum, but it has always been somewhat disappointing for reasons explained in my review of the restaurant. Now dim sum is also served at Fung's Kitchen, but I am not sure it is much better than at Grand House. Still, either of these experiences gets patrons one step closer to authentic Chinese food in Oklahoma City.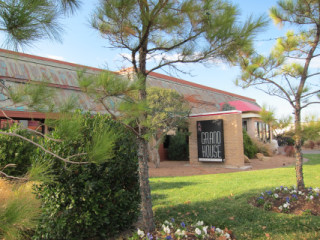 Grand House on Classen Blvd. in the Asian District
The reason I am more enthusiastic about Grand House than in the past is because of items I have tried from the Chinese menu. Grand House has always had very good sauces with a Chinese flavor, but now the vegetables and other features of the meals are demonstrating the same quality with more consistency than in the past. I have tried to be honest about some of Grand House's problems in the past (and I still think the dim sum has a long way to go), but I also want to speak out at this point to say "give it another try" if you have been disappointed in some aspects of the restaurant. Some of the changes I have seen lately have been very noticeable.
It is still good to go on dim sum days (Sat., Sun., and holidays until 3:00 p.m.), if nothing else to get a dessert from the dim sum carts. I always like the atmosphere and comfortable seating at Grand House, and they have added extra features such as sushi and Vietnamese dishes.
Also, be sure to check out the cake display at the front of the restaurant featuring cakes from La Baguette. Sometimes I have found cakes at Grand House that are not available at La Baguette (most likely because La Baguette sells out more quickly).
I think Grand House is trying very hard to provide an experience that will be more than just the standard Chinese food found at most restaurants, and they are definitely succeeding.
MOST RECENT ARTICLES
are listed on the web site's home page: