okgourmet.com&nbsp &nbsp Home of Steve's Restaurant Reviews
SUPPLEMENTAL ARTICLES
Relating to Oklahoma Restaurants
Home &nbsp > &nbsp Special Features &nbsp > &nbsp Articles &nbsp > &nbsp Oklahoma Articles
OKLAHOMA CITY, OK--Abel's Mexican Restaurant
Dec. 14, 2012: Abel's in Warr Acres is better than most of the metro's Mexican restaurants, but it is also more complicated. The regular menu is served until 9:00 p.m., and comes with chips, salsa, queso, and a sopapilla. The Mexican menu is also available until 9:00 p.m. with the chips and other set-ups, and offers tacos, tortas, burritos, gorditas, and quesadillas. The Mexican menu is also served after 9 p.m. at a lower price without the set-ups (but salsa is served with the meal).

The regular menu includes full dinners with side dishes such as rice and beans, as opposed to the a la carte items from the Mexican menu. I am calling them the "regular menu" and "Mexican menu," but these are not their actual names. The truth is that some of the dinners from the regular menu are just as authentically Mexican as the a la carte items, and some of my favorites include enchiladas and seafood dinners.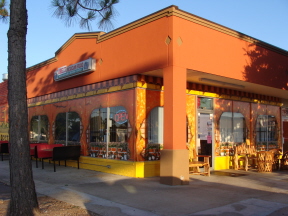 Abel's in Warr Acres
I think the best items from Abel's are the tacos from the a la carte ("Mexican") menu. The tortas, gorditas, and other items from this menu have the same meat choices, but I like the tacos because of the corn tortillas, condiments, and salsas that come with them. Abel's is probably the best place in town to get tacos al pastor (pork tacos with pineapple). The tacos Calvillo (originating in Calvillo, Aguascalientes) are another specialty.
There are many good items from the regular menu, but to me the chips and sometimes the side dishes are a letdown, so most of the time I stick with the tacos or other items from the a la carte menu.
The aguas frescas drinks are also excellent, with the canteloupe being my favorite.
A second Abel's Restaurant opened fairly recently in south Oklahoma City.
MOST RECENT ARTICLES
are listed on the web site's home page: