okgourmet.com&nbsp &nbsp Home of Steve's Restaurant Reviews
SUPPLEMENTAL ARTICLES
Relating to Oklahoma Restaurants
Home &nbsp > &nbsp Special Features &nbsp > &nbsp Articles &nbsp > &nbsp Oklahoma Articles
OKLAHOMA CITY, OK--Inca Trail
Nov. 24, 2012: Inca Trail is probably my favorite Peruvian restaurant in Oklahoma City overall, with the understanding that I have not yet been to Mamaveca. Inca Trail has a large menu, and this satisfies my craving to try new things. Also I think the appetizers served at Inca Trail are more interesting than the chips and salsa served at some of the other Peruvian restaurants.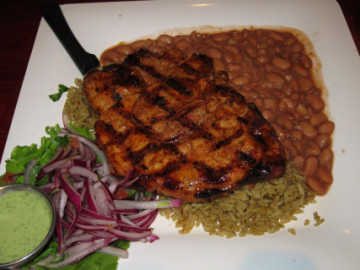 Adobo de puerco at Inca Trail
Adobo de puerco in my opinion is one of the best dishes at Inca Trail, and is the most recent one I have discovered. This was a very thick and delicious piece of pork chop that was cooked like a steak, and even tasted very much like a steak. The adobo flavoring was great, and the quality of the meat was top notch. I usually like to eat more vegetables than meat, but for a splurge I think this is a great meal.
Some restaurants excel in a particular type of meat, but at Inca Trail I have been very impressed with the pork, beef, fish, and chicken (although I think the dark meat chicken is better than the white meat). The adobo de puerco, though, is one that I consider a must try for meat lovers.
MOST RECENT ARTICLES
are listed on the web site's home page: