okgourmet.com&nbsp &nbsp Home of Steve's Restaurant Reviews
SUPPLEMENTAL ARTICLES
Relating to Oklahoma Restaurants
Home &nbsp > &nbsp Special Features &nbsp > &nbsp Articles &nbsp > &nbsp Oklahoma Articles
EDMOND, OK--Zarate's Latin Mexican Grill
Nov. 19, 2012: Zarate's in Edmond is probably most popular for its Tex-Mex style Mexican food, but for me its real attraction is the Latin American menu from just about every country south of Mexico. The Mexican style chips, salsa, and queso are served with every meal, and the menu might make people think it is primarily a Mexican restaurant. However, I was told that the owners are from Peru, and Peruvian cuisine is probably the second most extensive type of food on the menu.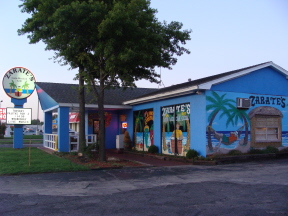 Zarate's on Broadway in Edmond
I have not had the ceviche at Zarate's, but it is available. Fried plantains and yuca are side dishes served here that some other Peruvian restaurants in the metro do not offer. I wanted to try some Chinese style fried rice with soy sauce, but it was not on the menu and the manager said they do not have it (this is available, though, at some of Oklahoma City's Peruvian restaurants). What I did try, the lomo saltado with chicken instead of beef, was quite good, and is probably something I will order again.
Even though the number of Peruvian dishes is limited compared to other restaurants, there are a number of choices from other Latin American countries and the Caribbean. The price is right for being able to make many return visits to explore different cuisines, and this is the only restaurant I have found with items from so many countries of South and Central America all together on one menu.
MOST RECENT ARTICLES
are listed on the web site's home page: