okgourmet.com&nbsp &nbsp Home of Steve's Restaurant Reviews
SUPPLEMENTAL ARTICLES
Relating to Oklahoma Restaurants
Home &nbsp > &nbsp Special Features &nbsp > &nbsp Articles &nbsp > &nbsp Oklahoma Articles
OKLAHOMA CITY, OK--Vito's Ristorante
Nov. 16, 2012: Vito's in my opinion is one of the top Italian restaurants in Oklahoma City, and is one of my "special occasion" restaurants (even though it really is not terribly expensive). One of the best things about Vito's is the red sauce, which with a generous amount of fresh basil is so much more flavorful than most red sauces I'm not sure it should even be put in the same category as the others.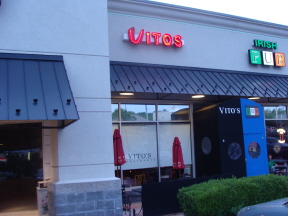 Vito's next to Sean Cummings' Irish Pub
Nevertheless, this is a "red sauce" restaurant, and even if you get chicken spedini, chicken scalloppine, or another dish without marinara sauce, the red sauce is still served on a side dish of pasta. I like just about everything here that is covered with Cathy's sugo (traditional Italian red sauce), but other items I have tried have been excellent as well. The Italian sausage is unlike any others I have tried, and is quite possibly the best that can be found in the city or even a much larger area.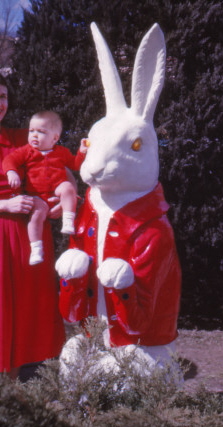 A photo of me next to the "Vito's rabbit"
One interesting feature of the restaurant is the large number of family photos on the wall. I come from the same city as Cathy and her husband Sean (who owns Sean Cummings' Irish Restaurant & Pub next door to Vito's), and many of the scenes in the photos are familar to me. One of the most interesting to me is a large rabbit with one of Cathy's family members standing next to it, and this is the same rabbit shown in the above photo with me when I was slightly younger.
Cathy came from a family in the restaurant business who knows their Italian food, and the dishes at Vito's come from family recipes. It is certainly worth checking out what they have to offer (and of course to look at Cathy's family photos).
MOST RECENT ARTICLES
are listed on the web site's home page: