okgourmet.com&nbsp &nbsp Home of Steve's Restaurant Reviews
SUPPLEMENTAL ARTICLES
Relating to Oklahoma Restaurants
Home &nbsp > &nbsp Special Features &nbsp > &nbsp Articles &nbsp > &nbsp Oklahoma Articles
OKLAHOMA CITY, OK--Poblano Grill
Oct. 25, 2012: Poblano Grill took its name from the poblano chiles it uses rather than purporting to serve food from the Mexican state of Puebla. If I had to classify the cuisine I would say the menu is mostly Tex-Mex (or Okie-Mex, as I have heard the term in Oklahoma) with a few traditional dishes from northern Mexico. It is the addition of these traditional dishes that has moved Poblano Grill from one of my most avoided Oklahoma City mini-chains to one of the ones that I most look forward to visiting.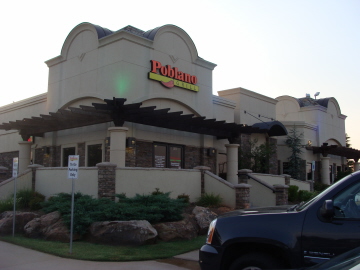 Poblano Grill at N. May and Memorial
The street tacos are a traditional Mexican item that can be ordered with a choice of meats, or a combination of them. I think the carnitas pork tacos are especially noteworthy for their flavor, and for the fact that they are better than most carnitas I have had (and this includes both south Oklahoma City and El Paso).
I wish they had home made Mexican drinks to go along with the food, but I still think this is a good choice for authentic Mexican dishes.
There are several locations in the metro, but they seem to open and close pretty frequently. The one at May and Memorial, though, has been going strong for a couple of years since moving from its former location at N.W. 122nd and May.
MOST RECENT ARTICLES
are listed on the web site's home page: