okgourmet.com&nbsp &nbsp Home of Steve's Restaurant Reviews
SUPPLEMENTAL ARTICLES
Relating to Oklahoma Restaurants
Home &nbsp > &nbsp Special Features &nbsp > &nbsp Articles &nbsp > &nbsp Oklahoma Articles
OKLAHOMA CITY, OK--Tana Thai
Sep. 27, 2012: One dish I highly recommend is the green curry at Tana Thai. To me the flavor of this dish is what Thai cuisine is all about.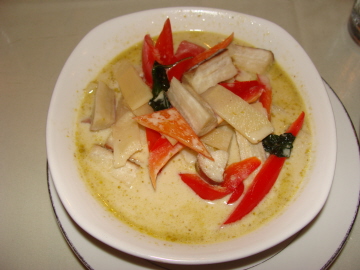 Green curry at Tana Thai
Noodle dishes are some of the most popular items at Tana Thai, and I particularly like the pad kee mao made with basil. The basil stir-fry dishes are also quite good.
Tana Thai's dishes are almost universally excellent, but I have had trouble getting the right spiciness levels on some of them (I am now ordering almost everything at one and a half stars out of three). Also most dishes seem to go best with shrimp or tofu rather than some of the other meat choices.
The small family run restaurant always makes me feel welcome. Be aware, though, that orders can take some time to prepare because of the limited space in the kitchen.
MOST RECENT ARTICLES
are listed on the web site's home page: