okgourmet.com&nbsp &nbsp Home of Steve's Restaurant Reviews
SUPPLEMENTAL ARTICLES
Relating to Oklahoma Restaurants
Home &nbsp > &nbsp Special Features &nbsp > &nbsp Articles &nbsp > &nbsp Oklahoma Articles
OKLAHOMA CITY, OK--Tokyo Japanese Restaurant
Sep. 14, 2012: Some food writers like to compile lists of their favorite foods or restaurants, and at times I find such an exercise to be very useful. Definitely one of my top ten favorite lunches in Oklahoma City is the salmon teriyaki at Tokyo, which I consider to be the area's premier Japanese restaurant.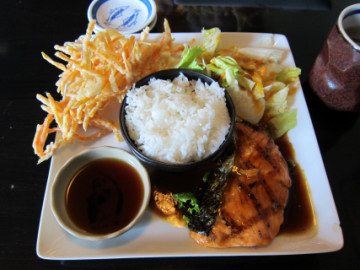 Salmon teriyaki "Happy Lunch" at Tokyo in Oklahoma City
Tokyo offers two types of lunches which I find to be convenient and filling. The Happy Lunch (as shown in the photo) comes with a salad and kakiage (shredded vegetable tempura), and it comes at a price that is really hard to beat for what you get.
The Box Lunch also offers teriyaki salmon as one of the choices along with sushi (your choice of nigiri, sashimi, or California roll). Miso soup is also included at no additional charge.
Hot green tea is served free with any meal, giving me another reason to love going to Tokyo (as if I didn't have enough already).
Lunch is served Tuesday through Saturday, and dinner is served Tue-Sun.
MOST RECENT ARTICLES
are listed on the web site's home page: