okgourmet.com&nbsp &nbsp Home of Steve's Restaurant Reviews
SUPPLEMENTAL ARTICLES
Relating to Oklahoma Restaurants
Home &nbsp > &nbsp Special Features &nbsp > &nbsp Articles &nbsp > &nbsp Oklahoma Articles
OKLAHOMA CITY, OK--Kim Wah
Sep. 7, 2012: Kim Wah at Britton Road and May Avenue in The Village is a popular place for its Chinese buffet, and I have had more than my share of meals from it (I especially like the hot and sour soup and the almond cookies). However, the real interest to me is the Vietnamese food that can be ordered from the menu as well as a couple of special items that can be requested.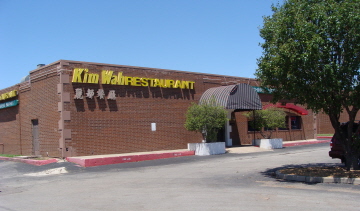 Kim Wah in The Village, a suburb of Oklahoma City
Kim Wah started out as a branch of Lido (the city's oldest Vietnamese restaurant), and I think the vermicelli bowls at Kim Wah are an exact copy of the ones at Lido. The canh chua (Vietnamese hot and sour soup) is even better than at Lido. For these two dishes and some others, Kim Wah is by far my favorite Vietnamese restaurant on the north side.
Kim Wah has recently made pho available, although I think several north side restaurants serve versions of equal quality (but one of the best features of Kim Wah is that they are not stingy with the basil). Pho is not listed on the menu but can be requested at any time.
After ordering the pork clay pot at other restaurants, I have come to like the version at Kim Wah the best of any north side restaurant (this is another item that can be special ordered). This has a rich flavor and very good meat quality, although it is lacking any vegetables other than onions and a garnish.
It is really necessary to go to the Asian District for a wide choice of Vietnamese items, but for very good quality it is necessary only to go as far as Kim Wah. The vermicelli bowls and canh chua are the best I have found anywhere in the city, and so far in any city where I have tried them.
MOST RECENT ARTICLES
are listed on the web site's home page: