okgourmet.com&nbsp &nbsp Home of Steve's Restaurant Reviews
SUPPLEMENTAL ARTICLES
Relating to Oklahoma Restaurants
Home &nbsp > &nbsp Special Features &nbsp > &nbsp Articles &nbsp > &nbsp Oklahoma Articles
OKLAHOMA CITY, OK--Lotus Mandarin
Aug. 30, 2012: Lotus Mandarin in Warr Acres (a suburb of Oklahoma City) has been around for over 30 years, and has consistently been better than the average suburban Chinese restaurant. It is not so much the buffet that I like, but several items from the menu that I have found to be very good.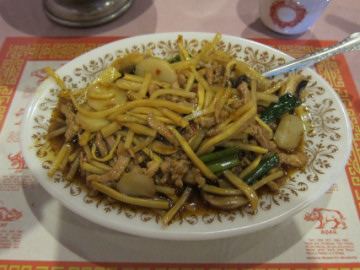 Szechuan shredded pork
The more authentic food here is Sichuan style, particularly the Szechuan shredded pork. The Szechuan Bistro at Memorial and Western is in a totally different league when it comes to serving authentic Sichuanese cuisine, but Lotus Mandarin has some dishes that I like quite well. The trick is to ask the owners for recommendations as to what dishes can be prepared in a more authentic style, and in my opinion they deliver on this. These dishes are less sweet, and I would recommend being prepared for a different (but a good) taste. All of the dishes recommended to me have come from the menu, and thus they are not only inexpensive but can be downright cheap if you get the small order (something that I have not found at Szechuan Bistro).
In my opinion the authentic dishes I like to order are also good "American style," since they still have the same meat and vegetables (only the sauce is made differently).
MOST RECENT ARTICLES
are listed on the web site's home page: