okgourmet.com&nbsp &nbsp Home of Steve's Restaurant Reviews
SUPPLEMENTAL ARTICLES
Relating to Oklahoma Restaurants
Home &nbsp > &nbsp Special Features &nbsp > &nbsp Articles &nbsp > &nbsp Oklahoma Articles
OKLAHOMA CITY, OK--Cafe 7
Aug. 24, 2012: I think almost everyone in Oklahoma City knows about Cafe 7, but I have been particularly impressed with the Cuban and the turkey and guacamole sandwiches. The cupcakes are also among the best I have tried in the city.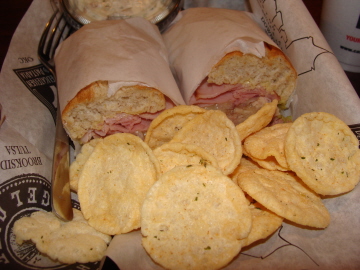 Cuban sandwich at Cafe 7
On my most recent visit I ordered the Rigatoni Sorrentino, giving me a very good taste of what is available from the pasta menu. The pasta is a good bargain, and I particularly like the ingredients that are included.
MOST RECENT ARTICLES
are listed on the web site's home page: