okgourmet.com&nbsp &nbsp Home of Steve's Restaurant Reviews
SUPPLEMENTAL ARTICLES
Relating to Oklahoma Restaurants
Home &nbsp > &nbsp Special Features &nbsp > &nbsp Articles &nbsp > &nbsp Oklahoma Articles
OKLAHOMA CITY, OK--Venezia Italian Ristorante
Aug. 11, 2012: Venezia Italian Ristorante has recently expanded from Del City with a second location near Northwest Expressway and Council Road in far northwest Oklahoma City.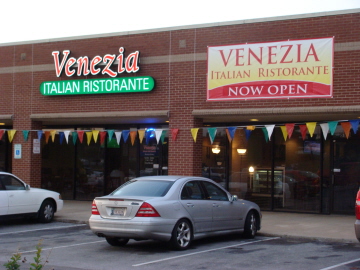 Venezia's new location on Northwest Expressway
This restaurant has been quite good overall, with a few dishes that I think are among the best in Oklahoma City. I wasn't quite as impressed with the dishes I can order in any Italian restaurant (such as lasagna and manicotti), but some of the house specialties and other items that I would call unusual for Oklahoma City have been quite good.
MOST RECENT ARTICLES
are listed on the web site's home page: