okgourmet.com&nbsp &nbsp Home of Steve's Restaurant Reviews
SUPPLEMENTAL ARTICLES
Relating to Special Topics in El Paso
Home &nbsp > &nbsp Special Features &nbsp > &nbsp Articles &nbsp > &nbsp El Paso Articles
EL PASO, TX--Asian Grocery Stores
Jul. 19, 2013: Note: This is a reprint from an article I wrote in 2007 about Asian Grocery Stores in El Paso. I have deleted the reference to the Bonsai grocery store on Shadow Mountain Drive because I believe it is no longer in operation.
---
Oct. 25, 2007: El Paso is not exactly a mecca for Asian food, but there are several grocery stores and small markets where groceries and supplies from the far east are available. There are also Indian, Middle Eastern, and other stores that sell goods from other parts of Asia, but I will probably cover those in another article.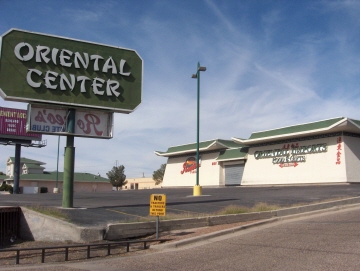 Oriental Imports is inside Oriental Center on Gateway West
There are probably some stores with which I am not familiar, but I can name the ones I know from my own personal shopping. Oriental Imports at 9101 Gateway West is the largest Chinese market I have seen in town, and the one that I think has the best selection. Located inside the Oriental Center on the Interstate 10 in east El Paso, there is both a gift shop and a grocery store that seem to be under the same ownership. Some of the Chinese restaurants in town say the grocery store has the best Chinese vegetables in town, stocking items that cannot be found anywhere else. The supply of vegetables comes from California, and items sold depend largely on what is in season. Since bok choy and other vegetables are not available all the time, this is one reason Chinese restaurants do not include them in dishes on their menus. Because of the vegetables available here and from other sources, though, restaurants can sometimes prepare special dishes. Oriental Imports is a good source for cooking ingredients such as oils and sauces needed for Chinese and other Asian cuisine. This is also the number one store I would check for any Asian cooking utensils that were needed.
Hong's Blankets and Gift Shop at 2000 N. Lee Trevino specializes in Japanese groceries, but also has a good selection of fresh Chinese and other Asian vegetables (many are likely grown in California). I do not know vegetables well enough to compare the ones here with other stores, but they looked fresh to me. The store is also the best source in town for Japanese teas. I am not sure about the "blankets" but the store is mainly a grocery store with the typical Asian noodles and cooking ingredients. The store is a couple of doors south of Riyoma Japanese Restaurant.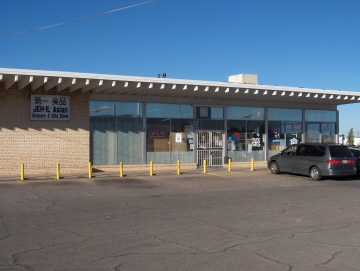 Jeh-Il Asian Grocery and Gift Store at Dyer and Hercules
Jeh-Il Asian Grocery and Gift Store at 8305 Dyer Street is my favorite store in town for the things that are really important (or at least important to me): Japanese rice cake and wheat cake cookies. These are not only the best cookies in town, I cannot even find the same ones in other cities I visit. Jeh-il is primarily a Korean grocery store, but the selection of Japanese and Thai cooking ingredients is substantial enough that I believe a large number of dishes could be prepared with the goods that are available here. I do not believe the store specializes in fresh vegetables, but I have not asked what they have available. There are more types of noodles here than I have seen anywhere else, and so many packaged goods with Korean and Japanese labels that I really wonder what they all are. Anyway, even if the main purpose of my trip is for desserts, I have a lot of fun looking at the other things.
MOST RECENT ARTICLES
are listed on the web site's home page: