okgourmet.com&nbsp &nbsp Home of Steve's Restaurant Reviews
SUPPLEMENTAL ARTICLES
Relating to El Paso Restaurants
Home &nbsp > &nbsp Special Features &nbsp > &nbsp Articles &nbsp > &nbsp El Paso Articles
EL PASO, TX--Jaxon's Restaurant Closes
Oct. 17, 2012: Jaxon's Restaurant in El Paso is reported to be closed by the El Paso Times effectively immediately. This includes both locations that were still operating (on Airway and at Remcon Circle and Mesa). The restaurant had been operating since 1973, and was known for its Southwest style food (including a number of Mexican dishes).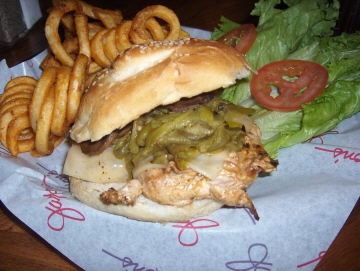 Tampico chicken sandwich
My favorite items were always anything with green chile, including the Tampico chicken, Tampico chicken sandwich, and black bean burger with green chile (one that I never tried, though, was the hamburger with green chile). I thought the green chile served at Jaxon's was comparable to the green chile I found on green chile cheeseburgers (GCC) in New Mexico, of which I had quite a good sampling.
Some people thought the tortilla soup was quite good (but for me it was less so). For those who are looking for a good substitute I would suggest Greenery Restaurant in Sunland Park Mall. However, an even better choice may be the Aztec soup at Carnitas Queretaro.
I do not always make mention of restaurant closings, but I had many good experiences at Jaxon's, and at least in the early years I remember it as being a restaurant that lived up to its hype.
MOST RECENT ARTICLES
are listed on the web site's home page: