okgourmet.com&nbsp &nbsp Home of Steve's Restaurant Reviews
Pho Saigon
25632 Pacific Hwy. S.
Kent, WA
(253) 946-2233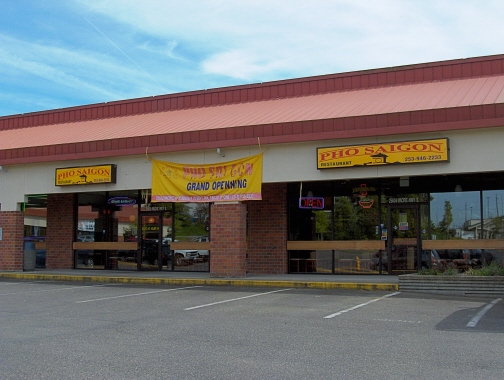 Pho Saigon is the reincarnation of Midway Saigon Garden, a small Vietnamese restaurant with a loyal customer base that was located a little to the north on Hwy. 99. The restaurant was forced to move when the school district built its new headquartes, but Paul and his wife are still producing some of the best Vietnamese food in the area at the new Pho Saigon.
My first visit to the old Midway Saigon Garden was when I was in search of someplace that was open in the middle of the afternoon after arriving at the airport. The food impressed me so much that I sometimes went miles out of my way to make subsequent visits. I also discovered that there were other customers who also made the pilgrimage here in search of the exceptionally authentic Vietnamese food.
The dish I like best is the vermicelli noodle bowl (Bún Chay), which is comparable to the best ones I have eaten in Seattle.
Other dishes look equally good, and include pho, hot pots, and other kinds of soup.
Even though the noodle bowl is quite enough for a meal, on one visit I also ordered a banh mi sandwich made with chicken that not only had better quality meat than I was expecting, but the sauce was better than at just about any Vietnamese restaurant I have visited. It is too bad I have been able to make so few visits to a place that has so many good choices.
Paul, the owner will do his best to make you feel welcome and to find out your preferences so the meal will be the way you want it. This turned out to be one of my favorite restaurants in the Seattle area.
RESTAURANT DETAILS
RATING: 24
Cuisine: Vietnamese
Cost: $
Accessible: Yes
Tea: Jasmine (brewed) house
MSG: Yes
Smoking: No Smoking
Most Recent Visit
Apr. 28, 2006
Number of Visits: 5
Best Item
Bún Chay (Rice Noodles with Tofu)
Special Ratings
Rice Noodle Bowl:


Banh Mi:

Health Dept. Report
King County


MORE ABOUT THIS WEB SITE