okgourmet.com&nbsp &nbsp Home of Steve's Restaurant Reviews
Chandler's Crabhouse
901 Fairview Ave. N.
Seattle, WA
(206) 223-2722

Chandler's Crabhouse, as the name implies, specializes in crabs, offering a few additional items including steaks, oysters, and "catch of the day" fish selections. In fact, the menu changes daily based on the seafood items that are available, and I think it is pretty much guaranteed that anything ordered will be fresh.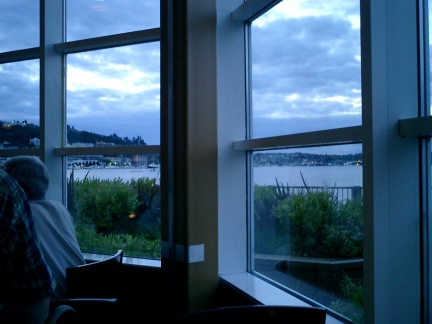 Chandler's overlooks Lake Union
One of the best features of Chandler's is its location overlooking Lake Union. The bar, outside deck, and comfortable dining room may make it tempting to spend some time hanging around. Although I would call it an upscale restaurant, the fact that it is casual makes it easier to explore the area or engage in outdoor activities before or after dining. Patrons can walk through the kitchen area where the soups and appetizers are prepared, giving a sense of the excellent food that is prepared here.
The menu always includes about a dozen types of crabs, many of which come from the Northwest. The Alaskan Bairdi Snow Crab was available the night I went, and the portion I was able to sample was fresh and lived up to what I would expect at a crabhouse restaurant.
I could not resist ordering the Copper River King Salmon that is only available for a few weeks in May and June each year. Like other Copper River salmon I ordered, this one did not have the fatty taste I normally associate with this premium fish. To further add to my disappointment, I did not think it was cooked quite right-- the outside was done about right but the inside was almost raw (it was supposed to be medium rare). Having had overcooked fish at other restaurants I did not want to send it back for additional cooking time (I think the outside would have been overdone had I done so). I went at a time that most of the other restaurants were no longer serving Copper River King salmon, so I was glad to get it, but at the same time somewhat unimpressed by the way it was cooked.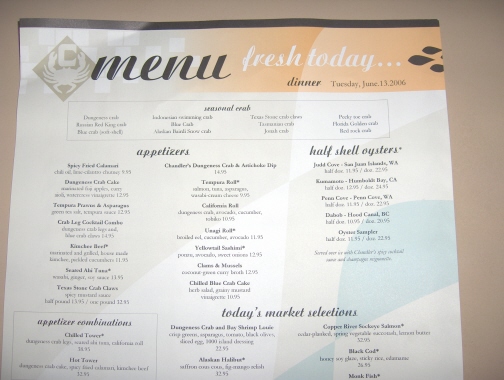 Chandler's menu changes daily
It seems that the reason to go to Chandler's is really for the crabs. I doubt that many other restaurants offer this great a variety that would be this fresh.
RESTAURANT DETAILS
RATING: 22
Cuisine: Seafood
Cost: $$$$
Hours: Open daily except Sun. dinner
Smoking: No Smoking
Alcohol: Beer, Wine, Drinks
Most Recent Visit
Jun. 13, 2006
Number of Visits: 1
Special Ratings
Alaskan Bairdi Snow Crab:

Restaurant Web Site
Chandler's
MORE ABOUT THIS WEB SITE