okgourmet.com&nbsp &nbsp Home of Steve's Restaurant Reviews
Café Happy
102 Kirkland Ave.
Kirkland, WA
(425) 822-9696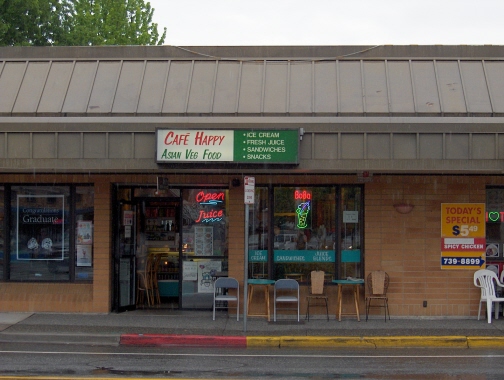 Café Happy offers vegetarian Taiwanese cuisine, which in itself would be a reason for me to try it, but there is a bonus here-- it is really good Taiwanese cuisine. You can also feel good coming here since the owner promotes respect for animals, environmental awareness, and human health through the food. Everything is cooked individually as it is ordered-- something not very unusual in Seattle, but is a far cry from huge buffet lines found in many Americanized Chinese restaurants.
The restaurant is actually more of a bubble tea shop with one table and a few counter tops to serve food. It is not the most comfortable place to sit and eat since I do not like the high stools that are at the counter. I noticed some tables outside, and this might be a possibility if the one table is full. In addition, the restaurant is located a block from the waterfront, so the food could be used for a picnic on those fairly rare days when you would actually want to eat outside.
A large menu on the wall includes pictures of all the entrées, so this gives a good idea about what to order. The owner recommended the Tofu with Ginger Sauce based on what I said I liked. This was actually a very good choice that I thoroughly enjoyed. The ginger sauce was quite good and I think a step above the versions that are served in most restaurants. The vegetables and tofu were good as well. I went away not quite full, but the food was pretty reasonably priced, and sometimes I enjoy having a meal that does not leave me going away completely stuffed.
The Bubble Tea looked to be above average, and it turned out to be so. I ordered one that was made with real fruit, and it was a delicious, refreshing drink.
RESTAURANT DETAILS
RATING: 23
Cuisine: Chinese Taiwanese
Cost: $
Hours: Open Daily
Accessible: Yes
Tea: Jasmine (brewed) house
MSG: No
Smoking: No Smoking
Alcohol: No
Buffet: No
Most Recent Visit
Jun. 1, 2006
Number of Visits: 1
Best Items
Tofu with Ginger Sauce, Bubble Tea
Special Ratings
Tofu with Ginger Sauce:


Bubble Tea:

Health Dept. Report
King County


MORE ABOUT THIS WEB SITE