okgourmet.com&nbsp &nbsp Home of Steve's Restaurant Reviews
Szechuan Chinese Restaurant
3425 South 1st St.
Abilene, TX
(325) 673-9100

Those who went to the original Szechuan Chinese Restaurant at 3309 S. 1st Street might be surprised by the modern, spacious restaurant that has been opened about a block from the original building. I hear the old restaurant is becoming a Thai restaurant, but the new building was apparently needed to accommodate the large number of customers who have been coming since the end of 2007 for chef Byron Huang's award winning Chinese food. I do not pay much attention to accolades received by restaurants unless the food bears them out, but in this case I would say Szechuan is deserving of being recognized.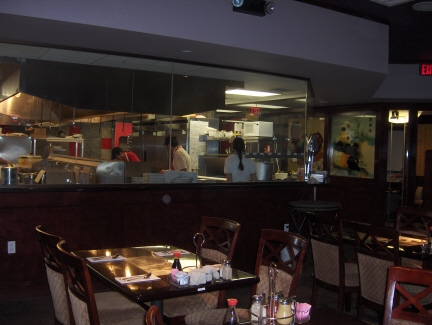 Chefs at Szechuan Restaurant perform their magic in the kitchen that is open for customers to view
The menu did not look very promising for getting authentic, non-Americanized Chinese food, but as is often the case with ethnic restaurants, it pays to study the menu for a while. There were the usual sweet and sour dishes, and they even serve chop suey (which I don't think is normally found in China). Although the name of the restaurant is "Szechuan," dishes seemed to be from all over China with Cantonese, Mandarin, and Hunan food also being served. Most of what I consider Americanized dishes were the Cantonese ones, but dishes from the other regions looked pretty interesting, and possibly even authentic.
Up to this point I had little hope of finding high quality, authentic Chinese food, but that began to change when I talked to some of the staff. A hostess who was answering some of my questions confirmed that not everything on the menu was authentic Chinese, but some items were. She indicated that the "authentic" dishes were not necessarily the only good ones, but that they would prepare a dish using the traditional Chinese cooking style if that was what I wanted. I did not have to think very long about this one, since that is exactly what I wanted.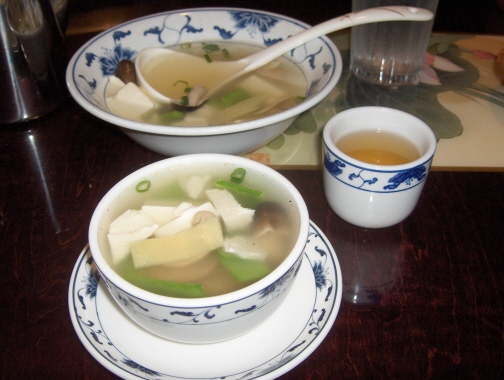 Vegetable and tofu soup is made the Chinese way by slow cooking the broth
The waitress asked if I wanted to start the meal with a bowl of soup (these cost extra). I had eaten the Hot and Sour Soup at the old restaurant and found it to be one of the best, but this is not what I was in the mood for. Instead, I tried the larger bowl for two persons (or for one that is especially hungry).
The Vegetable Tofu Soup I ordered turned out to be large enough for two people, but light enough that it really did not matter if one wanted to eat a large quantity of it. The broth was slow cooked with bone-in chicken, prepared the way I experience at authentic Cantonese restaurants (as well as good restaurants representing other regions of China). The vegetables and tofu were cooked only a short time, giving a fresh flavor to complement the slow cooked broth. I found the whole thing to be delicious, with one of the most "Chinese" flavors I have ever experienced in a restaurant. It was so good I wanted to make an entire meal of the soup, until I found out the dinner I ordered was just as good if not better. In any case, I was very pleased with the soup.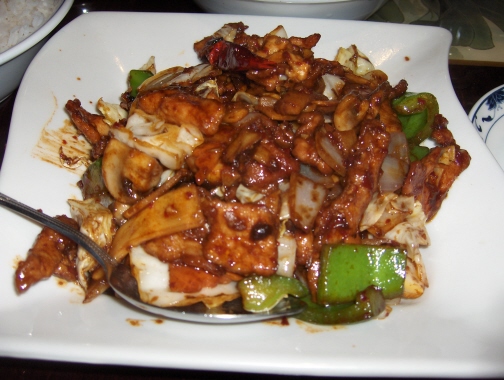 Szechuan Chicken with black bean sauce
Although this is not exclusively a Szechuan style restaurant, the hostess indicated that the Szechuan Chicken would be one of the best and most authentic dishes served. I appreciate this kind of advice when it is done with some knowledge and authority. She apparently knew what she was talking about because I found it to be one of the best Chinese dishes I have eaten in my life. It was made with black bean sauce (not something normally found in Americanized versions) and nappa cabbage (again, not something that would probably be used if the restaurant were trying to cut corners and serve things "American" style). The sauce was light and barely covered the food, but had enough flavor that the ingredients did not need to be swimming in it. The chicken was good quality (and I recommend it), but the dish also comes with beef or pork.
When I went to the old restaurant I ordered Braised Tofu with Mandarin brown sauce, a dish that was probably equal in flavor to the black bean sauce but representative of a different region in China, the northern area around Beijing. At the time I found the tofu to be rather spongy, and not the type I prefer, but I do not know if it has changed with the opening of the new restaurant. The vegetables were heavy on bell peppers and onions, and I probably would have preferred more green vegetables. (My experience with the tofu soup, though, has shown that the restaurant has either improved the vegetables or can serve Chinese style vegetables if you request them; in any case this would improve the braised tofu quite a bit). In spite of this, I was impressed enough with the Mandarin sauce to want to try the restaurant again. At least it showed that you do not have to order a meat dish to get a good meal here.
Szechuan Chinese Restaurant 's "authentic" dishes seem to be limited to Szechuan and Mandarin style food, although the tofu soup I had was similar to Cantonese versions I have had. I know the problem here is the restaurant's location in West Texas away from major markets where more exotic Chinese ingredients are sold. The chefs certainly do the best with what they have, and I would say this is some of the most delicious Chinese food I have had. Although there is a large menu, they seem to do a lot of different things with meat and the variety is not so great with the sauces, vegetables, or cooking methods that would normally be found in an "authentic" Chinese restaurant. They do not serve Szechuan style dishes on a hot plate or steamed Cantonese style dishes, although I am sure the chefs would be capable of doing this and a lot more if they had the proper ingredients and the kitchen was set up for it.
What I have tried at Szechuan has been delicious, complex, and everything Chinese food should be. The restaurant is to be commended for introducing a lot more than is normally found in Chinese restaurants where there is not a large Asian population. Small city America does not have to be relegated to low quality Americanized ethnic food, and Abilene certainly is not.
Even if you do not order an "authentic" dish at Szechuan, my guess is that it will be very good. For those who are able to visit on multiple occasions, though, it would be well worth exploring the menu.
RESTAURANT DETAILS
RATING: 23
Cuisine: Chinese
Cost: $$
Hours: Open Daily
Accessible: Yes
Tea: Jasmine (bags)
MSG: Yes
Smoking: No Smoking
Alcohol: Beer, Wine
Buffet: No
Most Recent Visit
Feb. 11, 2008
Number of Visits: 2
Best Items
Szechuan Chicken, Vegetable Tofu Soup
Special Ratings
Szechuan Chicken:


Braised Tofu:


Vegetable Tofu Soup:


Hot and Sour Soup:

MORE ABOUT THIS WEB SITE