okgourmet.com&nbsp &nbsp Home of Steve's Restaurant Reviews
Super Bowl Noodles
810 Columbine St.
Amarillo, TX
(806) 331-3378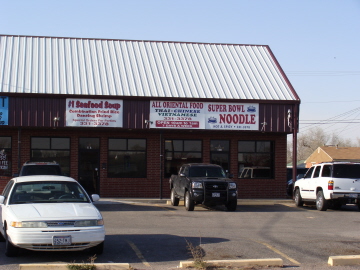 A small strip of Asian restaurants has developed in northeast Amarillo that serves the nearby Lao American community, but offers a variety of cuisines including Thai and Vietnamese. Super Bowl Noodles is one of the newer restaurants, located in a strip shopping center behind the much larger Thai House Restaurant (Thai House is located at 5601 E. Amarillo Blvd., at the intersection of Columbine St.). Amarillo Boulevard is the old U.S. 66 highway, and I am very glad to see redevelopment taking place in an otherwise almost abandoned commercial area.
The biggest seller at Super Bowl Noodles seems to be pho and other types of noodle soup. Chinese lunch specials are available, and Thai dishes are served, but the menu is not divided into sections based on the origins of dishes. I would say the largest number of dishes were Vietnamese, followed by Thai.
The decor is simple and prices are reasonable. The restaurant stays open late and business seems to pick up about the time most other restaurants in Amarillo are closing.
When I went the restaurant was short a cook, and customers had to spend a considerable amount of time waiting for orders to be prepared. It should be noted that this is home cooked style Asian food (not mass produced food that is prepared ahead of time), so some waiting is to be expected. One thing I have noticed in several visits to Amarillo Asian restaurants is that most customers (Asian and non-Asian) understand that they are getting authentic Asian food, and understand that it takes some time to prepare.
I knew that there was a Lao restaurant in the same strip shopping center as Super Bowl Noodles (but the other restaurant was closed on Monday when I went), so I was looking to see if there were Lao items on Super Bowl's menu. Several looked familiar, and the waitress confirmed that they were indeed prepared Lao style (several similar items are also served in most Thai restaurants). One dish was served either Thai or Lao style, and the sticky rice that is available as a separate order is predominantly a Lao dish.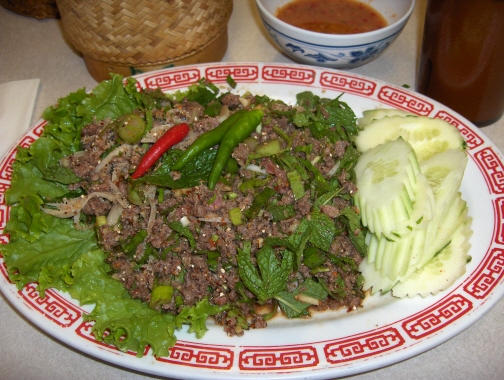 Beef larp is one of the Lao dishes at Super Bowl Noodles
Since I have had good versions of larp (pronounced laap) at other Lao restaurants in Amarillo, I ordered Beef Larp at Super Bowl Noodles. I have seen this dish described as minced meat, and it was similar to ground beef but without a large amount of grease. The beef was well cooked (I have heard that it is sometimes served raw in Southeast Asia), and came with pieces of tripe mixed in (these appear as a somewhat clear white color in the photo). Everything about the dish seemed that it would be as appealing to Americans as Asians if it were explained in English (unfortunately the menu at Super Bowl Noodles does not really describe the dishes that are served). The restaurant serves this dish "medium spicy" by default, which I found no hotter than the average Mexican restaurant. Some extremely hot chiles were served on top of the dish, and made the larp look as if it would be too hot to eat, but eating these chiles is totally up to the discretion of the diner.
Of the larp dishes I have tried, though, the one at Super Bowl Noodles excelled in the flavors of the mint, lime, and spices that were added. I did not find out for sure if the cook who prepared it was Lao, but I felt that it had to be made by someone with the skill and experience that came from years of practice. I have to emphasize that although this dish may look strange and a little scary if people are not used to hot chiles, the dish itself was not overly spicy. It did provide a total treat, though, of Asian flavors with fresh vegetables and good quality meat.
A bowl of extremely hot chile was served on the side for those who wanted to make it more "authentic" (actually I have to believe that not all Southeast Asian food is hot, and some very good food can be served whose primary purpose is not to clear out the sinuses). The chile tasted like a red chile and fish sauce mixture, giving both a spicy and a tart flavor. A little bit of this went a long way for me, but I thought it was delicious.
Cucumbers were served on the side of the larp and are considered part of the salad.
An order of Sticky Rice was used to cool down the chile and provide a base food for the strong flavors contained in the salad. I thought the rice was quite good.
Super Bowl Noodles served Thai Tea that I thought was as flavorful as it was cold and refreshing.
I think the Lao restaurant in the same shopping center has a larger menu of Lao food (I went in one time to look at the menu), but the quality of Super Bowl's food certainly seemed to be top notch. Judging from the amount of noodle soup served, I would guess the restaurant has a Vietnamese chef who specializes in preparing those dishes. This certainly impressed me as being an authentic tasting Asian noodle house, with some great Lao dishes added as a bonus. I would certainly be happy to eat at Super Bowl Noodles for my "Lao fix" when I am in Amarillo.
RESTAURANT DETAILS
RATING: 23
Cuisine: Lao & Vietnamese
Cost: $$
Accessible: Yes
Tea: Jasmine/ Thai Tea
Smoking: Non-Smoking Area
Buffet: No
Most Recent Visit
Jun. 2, 2008
Number of Visits: 1
Best Item
Larp
Special Ratings
Beef Larp:


Thai Tea:

MORE ABOUT THIS WEB SITE