okgourmet.com&nbsp &nbsp Home of Steve's Restaurant Reviews
Rudy's Country Store & BBQ
520 S. Interstate 35 E
Denton, TX
(940) 484-7839

Rudy's is somewhat uncharacteristic of chain restaurants because it does not rely on frozen food shipped in to be microwaved. Many of the products need to be shipped in, such as the large variety of soda pop served, beer, and other accessories. The meat, though, while I am not sure of its source, is smoked on-site at each restaurant. This gives it the same fresh flavor found at local barbecue joints throughout Texas.

There is great debate as to whether Rudy's is worthy to be called "great" Texas barbecue. Based on my experience, I would certainly say it is very good. It seems to be comparable to some local restaurants I know in Austin such as Iron Works BBQ, at least in the all-important "brisket" category. I have had some issues with the sauces at some of the Rudy's locations, but when I got it from the Denton restaurant I found it to be very good.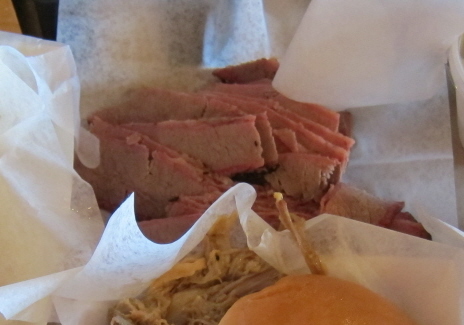 Brisket at Rudy's
The above picture is from the Oklahoma City restaurant, since my take-out order from Denton did not photograph as well. Although visually the food is the same at any Rudy's restaurant, I found a rather profound difference in flavor. The Brisket at Rudy's in Denton had a more tender, smoky, barbecue flavor than others I had previously tried (in Oklahoma City and El Paso). This convinced me that not all Rudy's are equal in terms of the food. The ones in the "heart of Texas" seem to be quite a bit better.
The particular brisket I got from Rudy's was a little dry at one end, but the rest was very moist and flavorful. This was excellent brisket (and I think brisket is considered to be Rudy's specialty).
One thing I like about Rudy's is that you can order any amount of meat you want, cut the way you want, either plain or on a sandwich. I haven't decided which are my favorite side dishes, but one interesting item is the green chile stew (which I ordered at the Oklahoma City restaurant). In Texas, though, I would really concentrate on the brisket since it seems to be especially good here.
RESTAURANT DETAILS
RATING: 23
Cuisine: Barbecue
Cost: $$
Most Recent Visit
Dec. 29, 2013
Number of Visits: 1
Special Ratings
Brisket:

MORE ABOUT THIS WEB SITE