okgourmet.com&nbsp &nbsp Home of Steve's Restaurant Reviews
Bangkok Restaurant
5901 E. Amarillo Blvd.
Amarillo, TX
(806) 383-9008

Although Bangkok Restaurant has a limited menu selection compared to most Thai restaurants, it seemed to me to have more of a "Thai taste" than many of the others. Unlike the nearby Thai House, Bangkok does not offer Lao or northern Thai dishes, but the Bangkok style dishes on the menu seem to be flavorful and of high quality.

The Chicken Soup comes in a large bowl, almost big enough for a meal, or an even larger bowl. The broth was almost clear, with lemongrass, ginger, and other herbs mixed in for a flavorful base to the very good white meat chicken. Small mushrooms were the only vegetable included, and I am not sure the amount of food in the smaller bowl would be enough to make a satisfying meal for the average person, but the flavor was more than satisfying.

On my first visit I had a dish that I only wrote down as "Stir Fried Eggplant" (I do not remember the Thai name), with an eggplant that tasted more like squash than American eggplant. The dish was a mixture of meat or tofu, a few Thai vegetables, and herbs and spices that give it one of the better flavors I have experienced in a Thai dish. The spice level followed the Thai heat scale, and the chiles added flavor to the dish that contributed to my feeling that Bangkok has a more authentic Thai cooking style than many restaurants.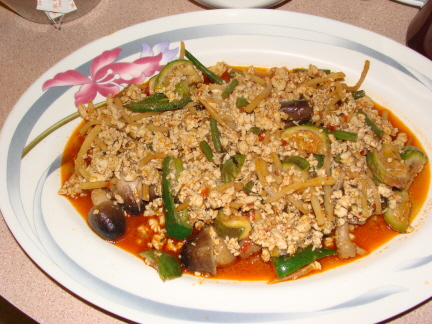 Krapao with chicken, eggplant, mushroom, bamboo, and green bean
When I visited another time I got the Krapao with eggplant, bamboo, green beans, and Thai basil that gives this dish its distinctive flavor. It seemed to be very similar to the first dish I tried, with the eggplant being what has been called "Thai eggplant" in other restaurants, looking more like squash than eggplant. This one was served with chicken, and reminded me of a "Thai salad." The dish was quite good, and I have had a tough choice trying to decide whether to eat here or at some of the nearby Lao restaurant (which are also quite good).
Bangkok is in a strip of Asian restaurants along the old U.S. Highway 66 where many formerly abandoned buildings are being utilized. While the outside is not as modern as some of Amarillo's Thai restaurants located on the west side of town, I enjoy the authentic Asian food served here (that I think is better than many of Seattle's Thai restaurants or ones from other larger cities). Other pluses include the fact that Bangkok is totally non-smoking, prices are cheap, service is friendly, and it seems to be open just about all the time.
RESTAURANT DETAILS
RATING: 23
Cuisine: Thai
Cost: $
Tea: Jasmine (bags)
Smoking: No Smoking
Most Recent Visit
Jun. 14, 2009
Number of Visits: 2
Best Item
Krapao
Special Ratings
Krapao:


Chicken Soup:

MORE ABOUT THIS WEB SITE