okgourmet.com&nbsp &nbsp Home of Steve's Restaurant Reviews
Golden Crown Restaurant
1726 Campbell St.
Baker City, OR
(541) 523-1168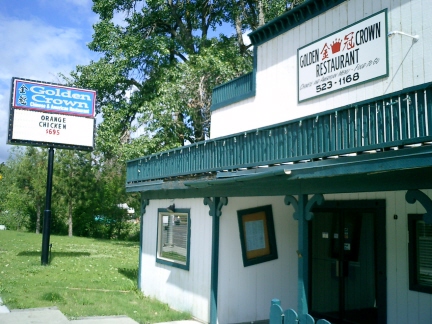 Of the four Chinese restaurants I saw in Baker City, Golden Crown looked from the outside to be the least likely to serve good food. Upon the recommendation of a local resident, though, I tried it. When I saw the menu, and particularly the vegetable dishes, this appeared to be the right choice.
The menu was fairly extensive but not very adventurous beyond the standard American favorites. There were a few spicy dishes. The seafood selections were limited to shrimp and scallops, items that seem to be popular in Oregon.
The Hot and Sour Soup served was pretty generic but good.
Several tofu dishes were available including Vegetable Tofu with brown sauce. I ordered a spicy version that turned out pretty well. Like the soup, it was nothing memorable or earthshaking, but I thought it was at least as good as most of the ones I usually get in Oklahoma City.
On a return visit I asked the restaurant's manager for suggestions to see if I could find anything more exciting than the vegetable tofu. He said he would talk to the chef, and I ended up with Ma Po Tofu cooked with fried tofu instead of the normal soft variety. The chef also changed the sauce a little, and I was quite impressed with the dish. I was even more impressed that they would try to make a special order for me. I was told the way the chef prepared it was pretty close to the real Chinese style, except of course that the traditional ma po comes with soft tofu.
The house tea was good. The tea in Oregon tends to be pretty strong--brewed for cold, rainy days.
Overall I thought Golden Crown served good Chinese food. The menu said they began in La Grande, and at first I thought I might experience some pretty generic Americanized food like I did previously at a Chinese restaurant in the Grande Ronde. The food at Golden Crown was a lot better, though, and worth a stop when you are in the area.
Baker City seems to have a stong Chinese community, with several Chinese restaurants operating in a relatively small town. After eating at Golden Crown, I have hopes that some of the other restaurants might be good as well.
RESTAURANT DETAILS
RATING: 20
Cuisine: Chinese
Cost: $
Hours: Open Daily
Accessible: Yes
Tea: Oolong (brewed) house
Smoking: No Smoking
Most Recent Visit
Jun. 15, 2006
Number of Visits: 2
Best Item
Ma Po Tofu
Special Ratings
Ma Po Tofu:


Vegetable Tofu:


Hot and Sour Soup:

MORE ABOUT THIS WEB SITE