okgourmet.com&nbsp &nbsp Home of Steve's Restaurant Reviews
Zen Asian Dining (Closed)
3209 S. Broadway Ave.
Edmond, OK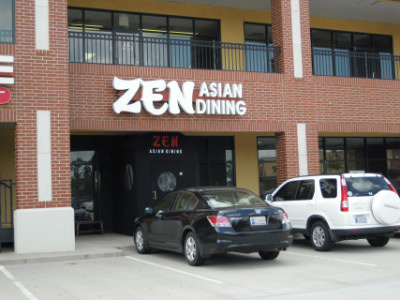 Asian bistros are becoming quite popular, but maybe most of them are trying to do too much. Zen Asian Dining does not call itself a bistro, but it had the same atmosphere and type of menu as I have seen in bistros and Asian fusion restaurants. The menu at Zen includes Chinese, Thai, Japanese, and Vietnamese dishes, and probably some others I did not notice. I have enough respect for Asian cooking that I believe it should not be served unless the chef has extensive experience with the cuisine, and preferably has grown up with it. I do not know who is cooking the food at Zen, but they obviously have some experience with Asian food.
People do appreciate having several cuisines under one roof, and I understand that. The restaurant was comfortable, and I felt that the staff had an enthusiam about the food and in serving the customers. Just because a restaurant sets high goals does not mean it cannot attain them, and it seems that in many ways Zen has raised the standard for Asian dining in the OKC metro.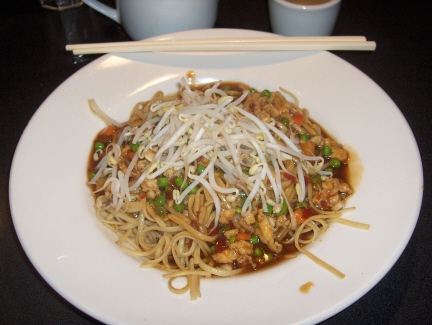 Dan dan mein
On the recommendation of staff, I ordered Dan Dan Mein (I wanted something spicy). There is a good choice of both spicy and mild dishes, and customers only have to ask to be sure they get what they want. Dan dan noodles is a spicy dish with soft noodles, diced vegetables, stir fried chicken, and a spicy brown chili sauce. The price was right, and this was actually a very good dish. The sauce was basic, and the mixture of ingredients was done well.
I have been spoiled, though, by having some of the best northern Chinese cuisine in the country available in El Paso at Moon Day Restaurant, so my bar is pretty high for dishes such as the dan dan mein. By this standard the one at Zen did not seem very close to being authentic, especially with the sauce. However, compared to many Chinese restaurants in Oklahoma City and elsewhere, the dish at Zen was very good. At least with the Chinese food, I thought Zen did a pretty good job.
A Thai dish I tried, though, was not quite as satisfying. The Pad Thai had a red color that reminded me of this dish at certain restaurants in the Pacific Northwest which some customers say are made with catsup. I think the red color more likely comes from tamarind than catsup, but the overly sweet flavor of Zen's pad thai was reminiscent of some of Seattle's more problematic versions of this dish.
Zen has several specialty hot teas that are very good (based on the one I tried), but also very expensive. My dinner would have been quite reasonable if I had just ordered the food, but with the drink it turned out about average for all the other restaurants in the Edmond area. I did enjoy the tea, however, and it was probably worth what I paid.
Overall I thought the food tasted fresh, and there are definitely good possibilities for other dishes on the menu.
RESTAURANT DETAILS
RATING: 20
Cuisine: Asian
Cost: $$
Accessible: Yes
Tea: Jasmine
Smoking: No Smoking
Buffet: No
Most Recent Visit
Feb. 21, 2015
Number of Visits: 2
Special Ratings
Dan Dan Mein:


Pad Thai:

MORE ABOUT THIS WEB SITE