okgourmet.com&nbsp &nbsp Home of Steve's Restaurant Reviews
Young China Restaurant (Closed)
205 W. Main St.
Weatherford, OK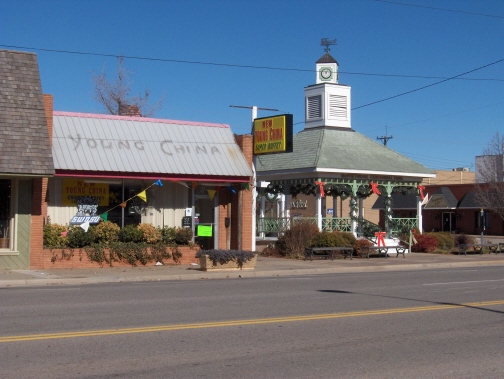 Young China Restaurant (or New Young China, as it says on the sign in front) serves the type of Chinese food I seek out-- fresh, with distinct sauces for different dishes, complex flavors, good quality vegetables that are not overcooked or undercooked, and tofu with the right texture.
The buffet may have some gloppy goop in order to please the Americanized tastes (and yes, there is the obligatory ice cream machine that is found at Chinese buffets throughout west Texas and Oklahoma). There is no MSG in any of the food so even the buffet would be recommended-- the only problem for me is the lack of vegetable dishes. There was even one dim sum item available, and the buffet is at rural Oklahoma prices ($4.95 for lunch, a dollar more at dinner and on Sunday).
Otherwise, though, the food is distinctly different from that found in most Chinese restaurants in the area. I was able to enjoy a wonderful version of Bean Curd Home Style with brown sauce. This is a huge plate from the dinner menu that does not have a huge variety of vegetables, but has well prepared tofu with a delicious sauce that in its complexity reminds me of west coast Chinese restaurants. Maybe it's just that they added a lot of garlic, but I think the flavor consists more of the various spices and other ingredients than the soy sauce base.
The Hot and Sour Soup has a light base rather than the dark one usually found-- I like it quite a bit and I think it is as good as many of the darker versions served in Oklahoma City.
Young China is also worthwhile because you will be supporting a Main Street downtown business (the other Chinese restaurant is in a strip shopping center). Weatherford really is fortunate-- it has one Chinese restaurant that is good, and Young China that is even better.
Probably the biggest disappointment at Young China is that they do not serve jasmine tea, but only oolong tea and the standard Okie favorite, ice tea.
RESTAURANT DETAILS
RATING: 22
Cuisine: Chinese
Cost: $$ (Lunch $)
Hours: Open Daily
Tea: Oolong (brewed)
MSG: No
Smoking: No Smoking
Buffet: Yes
Most Recent Visit
May 24, 2005
Number of Visits: 2
Best Item
Bean Curd Home Style
Special Ratings
Bean Curd Home Style:

brown sauce
Hot and Sour Soup:

MORE ABOUT THIS WEB SITE