okgourmet.com&nbsp &nbsp Home of Steve's Restaurant Reviews
Yamato Japanese Steakhouse (Closed)
7101 Northwest Expressway
Oklahoma City, OK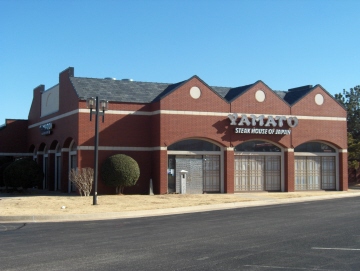 Yamato is the type of Japanese restaurant that does not fit my idea of being authentic, but the food is nonetheless enjoyable. I think the type of food cooked here on a metal grill does not have as long a tradition as other Japanese food, and the "knife throwing" show performed by the chef in front of the patrons is pretty much an American invention. Still, I often enjoy this type of restaurant in spite of sometimes feeling uncomfortable with the routine.
The good news is that Yamato uses good quality ingredients, and the dinner seems worthwhile even if the way they prepare it might not be the way I would expect it to be done in Japan. I main reason I consider teppan grill restaurants "unauthentic" is not because of the food that is served, but rather because of the great variety of Japanese food that is not served. Yamato, like many other Japanese steak house restaurants, specializes in steak and other meats cooked on the grill and mixed with vegetables. Yamato has added other items, such as sushi, but the main part of the restaurant consists of patrons sitting around hot grills while the food is being prepared in front of them.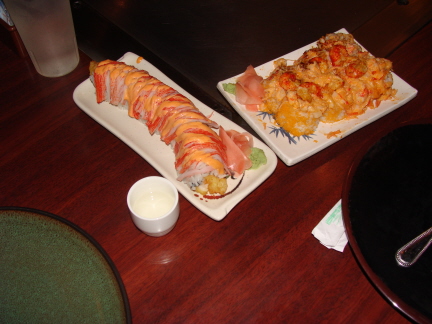 Sushi rolls
I was quite pleasantly surprised by the Sushi Rolls, since this is an item that many Japanese restaurants do not get quite right. These were the creative types of rolls that combined flavors in a way that I thought made the whole greater than the parts. I was not necessarily overwhelmed by how good the seafood was, but it was one of many good ingredients used in the rolls.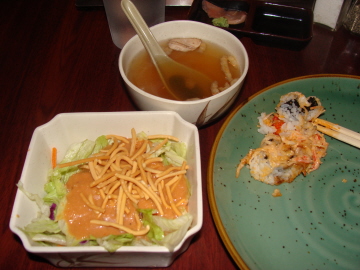 Salad and miso soup
The Salad served before the main meal was not the most impressive Japanese salad I have tried. This was served with ordinary green lettuce, but the biggest disappointment was the dressing. I do not suppose many people are looking for a great salad when they come to a Japanese steak house, but I did think the dressing could have had a much more interesting flavor.
The main course provides a choice of meats or seafood, but no vegetarian dinners are available. My first experience at Yamato was with the Salmon, which was the Atlantic variety. I thought it was rather ordinary even by Oklahoma standards, but I could not say it was something I would not order again.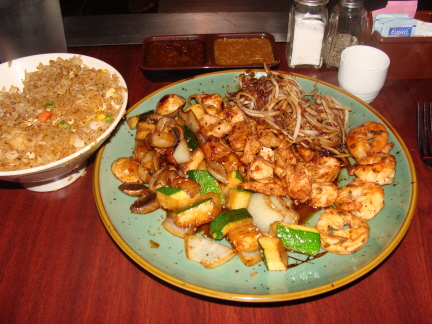 Sesame chicken
An order of Sesame Chicken turned out to be better than the salmon, but in a way it was more disappointing. This could have been a really great dish, but by the time the chef finished adding several sauces to it, I thought it had "many flavors, yet no flavor." It reminded me of P.F. Chang's or Pei Wei, in which they throw in so many ingredients it no longer tastes Oriental to me. Added to this was the fact that it did not have sesame seeds, so I do not know why it was called "sesame chicken" (if it was because of the sauce, it was sesame mixed with a lot of other sauces that did not have a distinctive sesame flavor to me). The vegetables and fried rice added enough to the chicken, though, that it still turned out to be a good dish. Also I thought the quality of the chicken was very good (I would say better than the salmon I tried on my first visit).
Several pieces of shrimp are added to all dinners, so this gives a greater variety to the food. This was something I was not expecting, and I do not remember seing at other teppan grill restaurants.
The restaurant provides both a ginger sauce and hot mustard for dipping or flavoring the food, and this is pretty standard practice for Japanese steak houses. I thought the ginger sauce, though, was not as good as most of the ones I have tried at other restaurants.
The high point of the restaurant was the Fried Rice cooked on the grill with vegetables and enough flavoring to make this one of the best I have tried. Equally important was the texture, that had the right amount of moistness so that it was not too dry or too sticky.
Yamato does not serve hot tea, and on at least one occasion I went to the restaurant but decided not to eat there because of this fact. Green tea was available on my first visit, but the restaurant probably decided not enough patrons wanted to order it.
I did try some Teriyaki Steak, and the beef seems to be the consensus favorite of those who have tried several of Yamato's dinners. Personally I would rather have a steak served Japanese style than the ones found in many other restaurants.
RESTAURANT DETAILS
RATING: 18
Cuisine: Japanese
Cost: $$$
Hours: Open daily except Sat. lunch
Accessible: Yes
Tea: Iced Tea
MSG: No
Smoking: No Smoking
Alcohol: Beer, Sake
Special Feature: Teppan Grill
Most Recent Visit
Oct. 10, 2009
Number of Visits: 2
Best Items
Fried Rice, Sushi Rolls, Teriyaki Steak
Special Ratings
Fried Rice:


Sushi Roll:


Teriyaki Steak:


Sesame Chicken:


Salmon:


Miso Soup:


Salad:

Restaurant Web Site
Yamato
MORE ABOUT THIS WEB SITE