okgourmet.com&nbsp &nbsp Home of Steve's Restaurant Reviews
VZD Restaurant & Club (Closed)
4200 N. Western Ave.
Oklahoma City, OK



Anyone who grew up in Oklahoma City and who is of a certain age will likely remember Veazey's Drug Store, whose small space seemed to be packed with a greater variety of items than could even be dreamed about in today's mega stores. The former Veazey's on North Western lives on today as VZD Restaurant & Club, complete with the original soda fountain and other mementos.

VZD is one of the city's hot spots for live music and is one of the most popular bars on North Western, but the food served is notable in its own right. I believe there is a cover charge for live music, but the food itself is rather inexpensive (and of course no cover is charged just to visit the restaurant when no music is being played). The restaurant is open until 11:00 p.m. weeknights, so this is a good late night spot to eat either with or without live music.
VZD's hamburger
The menu is listed on changeable boards, but the selection of food appears to be relatively fixed. The Hamburger is the most well known of VZD's food items, and after trying it I believe it to be the best. This is made with a high quality beef patty that is thick, juicy, and fresh. Of the burgers in Oklahoma City that are not charcoal broiled or cooked with onions (onion burgers), this is about the best I have eaten in terms of flavor and quality. I know there are others I have yet to try that may be better in many people's opinion, but I do not believe you can go wrong with the burger at VZD.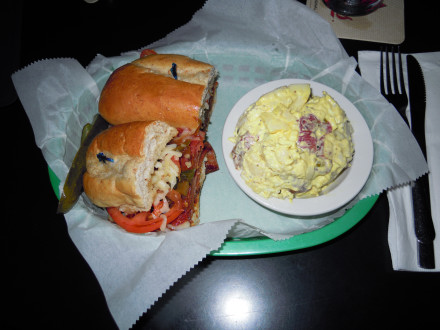 Hoagie sandwich
The Hoagie is loaded with meat, and is fresh and flavorful much like the hamburger. I did not think it was quite as impressive as the burger, and because of a lack of knowledge of this sandwich I cannot compare it to ones at other restaurants. I just know that it seemed to be a good second choice if you do not want a burger.
The Potato Salad tasted a little dry, and I believe there are many versions at barbecue restaurants throughout the city that are more flavorful.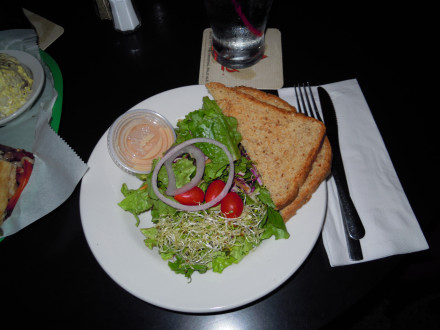 House salad
The House Salad seemed a little bland, and the dressing was not very flavorful. The salad was fine, but just not as good as the other items I tried. I liked the cherry tomatoes and the bread that came with it.
Based on a limited sampling of the items, I would not say that all of the food served was exceptional. The hamburger, though, was not only surprisingly good, but I would recommend it to anyone who wants to experience a very good Oklahoma City hamburger. I may be biased, but I happen to think that the good burgers in the city are superior to the ones in just about any other city where I have tried them.
RESTAURANT DETAILS
RATING: 21
Cuisine: American
Cost: $
Smoking: No Smoking
Alcohol: Beer
Special Features: Open late; Live music
Most Recent Visit
Sep. 8, 2010
Number of Visits: 1
Best Item
Hamburger
Special Ratings
Hamburger:


Hoagie:


Potato Salad:


House Salad:

MORE ABOUT THIS WEB SITE